Ram's production Ram 1500 REV electric pickup has arrived. It looks very different from the EV concept truck that was first displayed last month. The electric Ram's styling looks much the same as the Ford F-150 Lightning but with futuristic headlights, taillights, and unique wheels.
2025 Ram 1500 REV Review
The 1500 REV is almost identical to all other Ram pickups, with the exception of its modern-looking rear and front ends. The 1500 REV has a crew-cab body with a shorter bed. Ram has not yet stated if they will offer other configurations. The REV rides on an entirely new platform called STLA Frame. This is specifically designed for body-on-frame EV models. Ram also confirmed the availability of a range-extender model with a gasoline engine. We don't think it will have many of the more unusual features of the concept truck's production truck. However, there is a frunk.
Ram will show the REV in a Super Bowl commercial tonight. Ram has opened a RamREV.com website for customers to reserve their spots. You can join the REV Insider+ membership program by paying a $100 deposit. Ram stated that it would release the initial details of the truck as part of this rollout. We might also expect to see information on its power output, battery size, and range estimates.
The Ram 1500 REV will not be produced until next year. This means that we will have ample time to find out more about the truck's specifications and features before it reaches customers in 2024. Ford sells the F-150 Lightning. Chevy already has the Silverado EV. Ram intends to surpass them with the Ram 1500REV pickup. The brand claims that it will "redefine" the pickup market. Ram presented a concept version of the truck with a visionary road map at CES 2023. The Super Bowl preview showed the truck in a more traditional configuration.
This is what we know so far about the 2025 Ram 1500 REV electric pickup truck. Mike Koval, Ram CEO, confirmed that the Ram 1500 REV's Trim Line will be identical to the Ram 1500. It will also include a top-of-the-line TRX trim that (hopefully!) will compete with the GMC Hummer EV UT. Ram has provided some details on the mechanical design of the new truck. These details are not surprising. The STLA Frame EV platform is used to power the concept. The concept features dual electric motors at the front and rear, offering AWD. It also has an adjustable air suspension that can be set to ingress/egress and aero modes. You can also get four-wheel steering for extra maneuverability and up to 15 degrees of adjustment.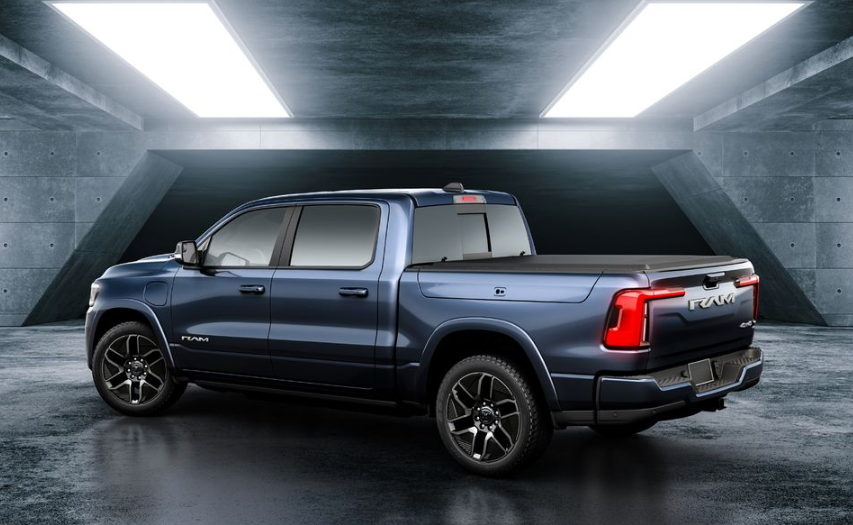 Ram 1500 Revolution BEV Concept featured two unique features that pickup trucks don't usually have: rear-hinged suicide door assemblies that open without a B-pillar, and third-row jump seats attached to the midgate. The center console of the concept was folded flat and removable. This created a Bollinger-like passage through the vehicle to allow for objects up to 18 feet long. The coach doors won't make it to production. Instead, the truck revealed has front-hinged rear doors. The interior is still unknown. We think the main feature that will make it is the passage-through to the frunk. Ram's concept presentation was lacking specific numbers. They claim that the electric truck will be the leader in the segment in "areas customers care most about", which are range, payload, towing, charging time, and charging time.
RAM offered the 1500 Revolution BEV Concept with an 800-volt fast-charging option that will allow the truck to reach 100 miles in just 10 minutes using a 350 kW fast charger. Ram demonstrated the Ram Charger, an inductive robot charger that attaches to a power cord and can position itself underneath the vehicle to charge during off-peak hours. This could be an attractive option for those who don't want a Level 2 charger or forget to plug it in. The Ram 1500 REV can use a standard home Level 2 charger, as shown in the photo.
2025 Ram 1500 REV Revealed
Ram unveiled the new truck in a Super Bowl commercial about "premature electricity". The specs and pricing will be revealed in detail during a formal unveiling over the next few months. Ram has confirmed that the 1500 REV will go into production in 2024, with deliveries beginning in Q4 2024.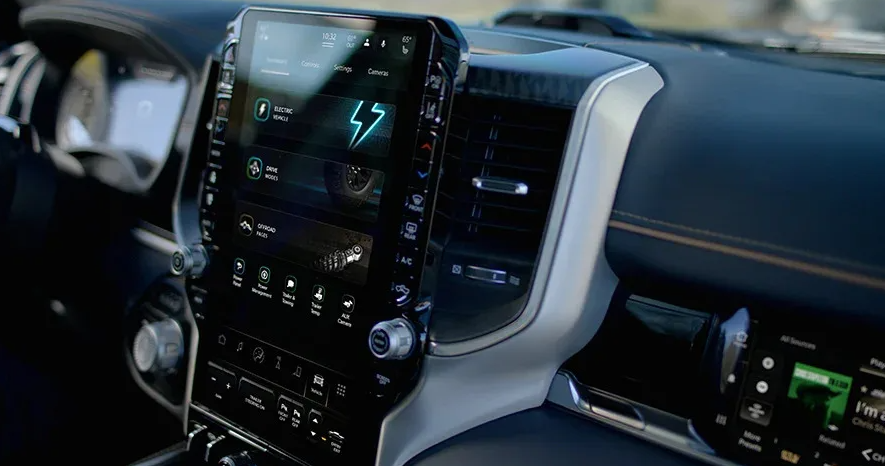 Ram suggests that you go to RamREV.com now and place your order with a $100 deposit. Delivery is expected to take place in the latter part of 2024. We will be seeing more of the REV finished product this year, including its interior. It will also be interesting to see if the concept's cooler innovations, such as its full-length cargo pass-through, third-row seating, and power-folding middlegame, actually make it to customers. Ram's first TV advertisement for the REV promises "range-lengthening tech to come later", a reference to what is widely believed to be an onboard range-extender. This could be a gas-fed generator to give the truck more driving range than the competition. The truck could launch without this unique feature, however.
We can't tell from these photos, but we sure hope at least some of the show truck's advances reach dealerships especially given how the REV's conventional looks could use some backup. Ram seems to be late to the electric vehicle pickup party, rather than being fashionable.