Volkswagen will soon release the ID.7, an electric family four-door that is mid-sized and similar in size to its Passat sedan, following the footsteps of the ID.4 SUV, and the ID. Buzz minivan. The ID.7, based on the ID. aero concept is meant to be as aerodynamic and stylish as possible. It will be available with both front-wheel and all-wheel-drive electric powertrains.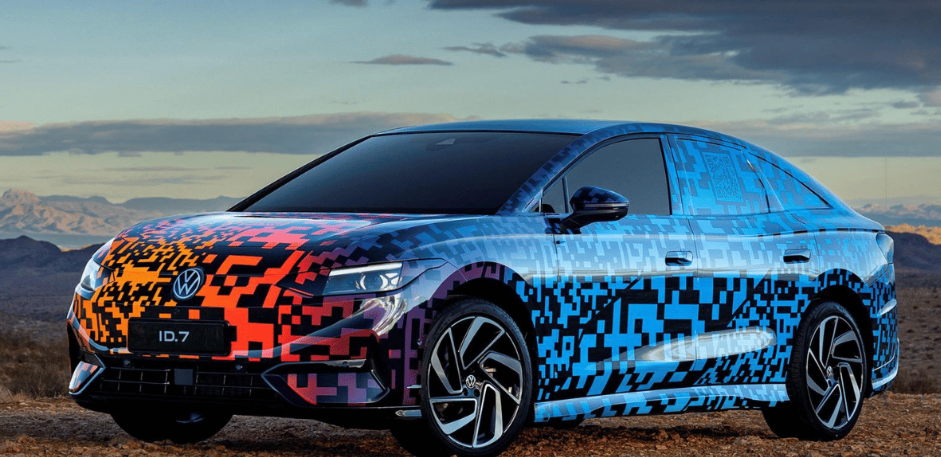 The ID.7's driving range should be greater than that of the ID.4, which can go up to 275 miles on a single charge. Volkswagen claims that all models will include a 15.0-inch touchscreen infotainment screen and a head-up display capable of projecting navigation instructions, as well as other key information such as vehicle speed.
What's new for 2024?
The ID.7 is a brand-new model from Volkswagen. It will most likely go on sale in the 2024 model year. We have seen only images of the concept car and a camouflaged production vehicle so far. However, Volkswagen claims that it will begin selling the ID.7 in 2023's second quarter.
Although we have not yet estimated the pricing, we expect to see similar MSRPs and trims to the ID.4's. The base model will likely offer rear-wheel drive standard, while the rest of the lineup will be equipped with dual motors and all-wheel drive.
Charging, Range, and Battery Life
Volkswagen has not yet revealed how big the ID.7's batteries will be. However, its aerodynamic design is expected to give it more range than its SUV sibling. Volkswagen claims the sedan can travel up to 700 km (-435 miles) between charges on the European WLTP cycle. However, don't expect these numbers to hold up in America's more rigorous testing cycle or real-world driving.
Interior, Comfort, & Cargo
We expect a spacious interior because the ID.7 replaces VW's mid-sized Passat family sedan. Volkswagen claims that the cabin features an air vent design that distributes airflow better throughout the vehicle's interior. Base models will be relatively simple inside, but the higher trim levels should have near-luxury equipment. We'll update this story as soon as we have more information about the ID.7 interior.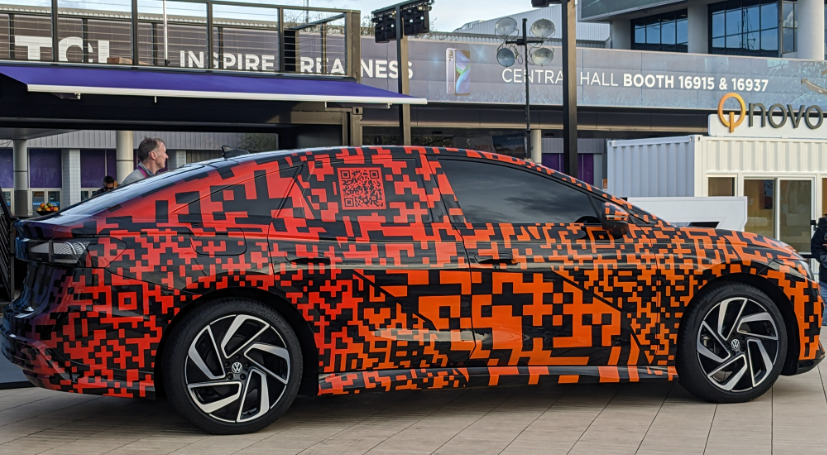 Infotainment & Connectivity
All ID.7 models include a large 15.0-inch information display with Volkswagen's most recent infotainment interface. The windshield features key information, as well as photos of a digital gauge display. The brand new 2024 Volkswagen ID.7 made its debut at the Consumer Electronics Show (CES) in Las Vegas. We were there to see VW's first all-electric global sedan.
The ID.7's bright camouflage paint was a striking feature at CES 2023. But the most important thing about the liftback sedan is its estimated range of 435 miles (700 km). The details are still very thin. The German brand is keeping information such as battery size, power, and charging speeds secret until the production version's debut in 2023.
Future
This information allows us to make educated guesses about the future based on our current knowledge. The ID.7 Volkswagen model is the sixth to use the modular electric drive matrix (MEB). It uses a 400-volt architecture and can take up to 170kW to recharge the battery.
The 82 kWh battery in the American-made ID.4 has a maximum range (275 miles) and a power output of 295 horses in the all-wheel-drive version. The upcoming ID.7 may use a larger battery pack to provide a 435-mile range. However, some rumors suggest that it could get a 105-kWh unit.
While VW did not bring a camouflaged car to CES this year but we were able to get a sneak peek thanks to some very good renders and revealing spy photos.  The interior was completely revealed, and there are many improvements over the original ID lineup. These include illuminated touch sliders to adjust the volume or climate control. Smart Air Vents were also added to the air conditioning system. These can be controlled via the central touchscreen at 15 inches and directed only toward occupied seats.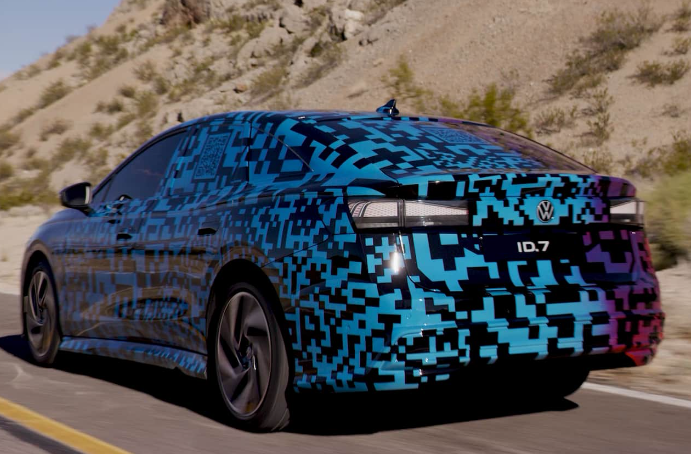 The augmented reality head-up display (HUD), which displays information such as the speed limit and current speed, is a more useful feature. Smart prompts are also available from the navigation system.
2024 Volkswagen ID.7 Price & Release Date
The 2024 Volkswagen ID.7 will debut as a fully-electric sedan in the second quarter of 2023. The vehicle is expected to be available in the second quarter of 2023 or early 2024. We have yet to announce pricing but expect the new vehicle to launch with an MSRP of at least $40,000. The ID.7 will be competing against the Tesla Model 3, Hyundai Ioniq 5, and Polestar 2.