GMC was the first to elevate key off-road truck categories with its capable and premium Sierra 1500 AT4X. The brand has taken things one step further today with the 2024 GMC Sierra HD AT4X. This truck allows adventurers and heavy-duty haulers to go farther while still maintaining the essential towing capabilities.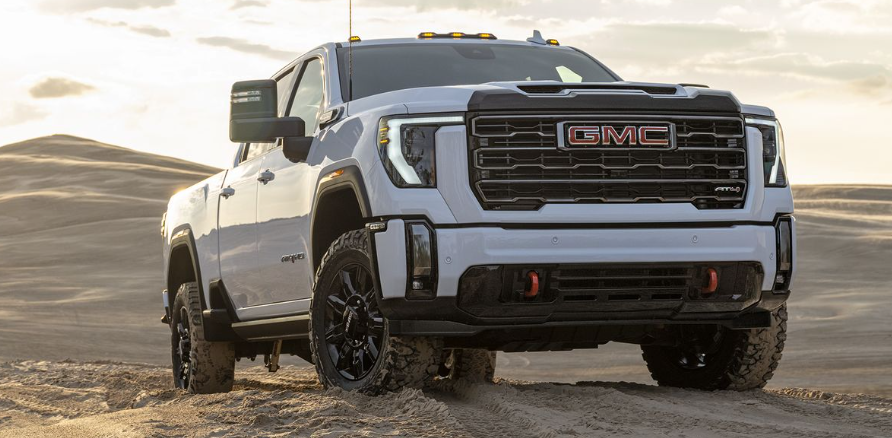 2024 GMC Sierra HD AT4X Review
GMC's Sierra HD AT4X is a premium off-road truck that offers a balance between increased off-road capabilities and smooth handling on the road. It also offers the best trailering technology and luxury features in its class. The new Sierra HD AT4X builds on the refreshed 2024 Sierra HD which features a fresh design update, premium interiors that are now available, and a tech-focused layout.
Maximum trailer weight of 18,500 pounds
The suspension lift is factory-installed at 1.5 inches
Multimatic DSSV dampers
The rear differential is e-locked (unlike the Silverado HD ZR2, this vehicle does not have a front locker).
35-inch Goodyear Wrangler Territory Mt tires
Specific upper and lower front control arms as well as steering knuckles
Front aluminum skid plates and larger steel transfer case skid plates
Interior features premium appointments such as massaging front seats and whole-grain leather.
The 2024 Sierra HD AT4X is a luxury off-road hauler that comes with a new Off-Road Mode. Off-Road Mode, when activated, adjusts various vehicle calibrations such as anti-lock brakes and traction control to optimize performance off-road. Off-Road Mode also alters the throttle progression and transmission shifting to improve off-road performance and control. Off-roading is made easier with the 6.6L Duramax turbo-diesel or standard 6.6L gasoline engine. The Duramax engine will be enhanced for 2024 to deliver 470 hp and 975 lb. ft. of torque. This means more power throughout the operating range.
The 2024 GMC Sierra AT4X — and especially the top-of-the-line AEV Edition — takes the already highly desirable, more tame off-road AT4 to the next level in off-road prowess. (Should there be such a thing as an HD truck?) This is a big truck that will take on the Ram Power Wagon and Ram 2500 HD Rebel as well as Ford Super Duty Tremor, all of which are heavy-duty trucks weighing more than three-quarters of a ton.
Specs
The Sierra 2500HD AT4X is mechanically similar to the Silverado 2500HD ZR2 and features MultiMatic Dynamic Suspension Spool Valve dampers paired up with a 1.5-inch suspension lift installed by the factory for greater ground clearance. The suspension mods are completed by "Specific" upper, and lower control arms, and steering knuckles.
The front skidplate is made of aluminum, and the underbody skidplate is steel. Both are designed to protect vitals when off-road. Approach/breakover/departure angles for the AT4X come in at 31.6/25.7/21.2 degrees.
Interior & Exterior
The 305/70R18 Goodyear Wrangler Territories MT tires are mounted on 18-inch aluminum rims. These tires are essentially 35-inch tires (actually 34.8 inches). The HD Sierra has a locking rear differential, but not a locking front differential. This is because the larger truck would destroy the locking differential. The new Off-Road Mode allows you to adjust things like anti-lock brakes and traction control as well as transmission shifts and throttle for a more aggressive off-road performance.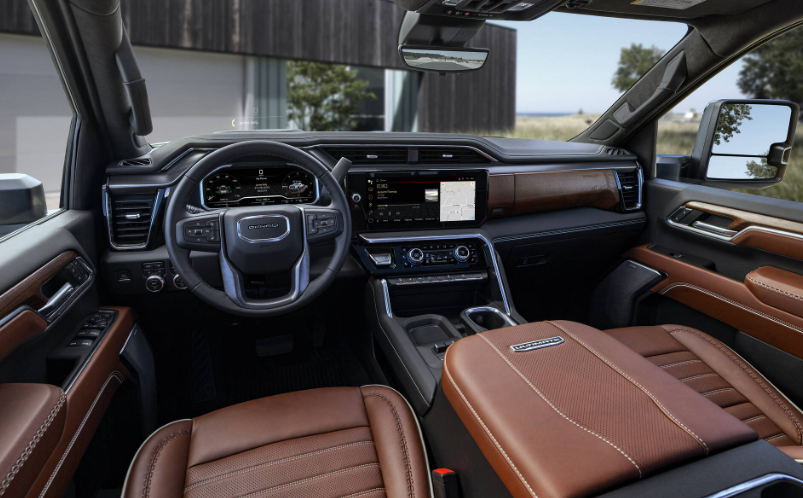 The exclusive Obsidian Rush Interior of the GMC Sierra 2500HD aT4X 2024 provides the best protection from the elements. It features power massaging seats in the front, leather-wrapped seating throughout, Vanta Ash decor, a 12-speaker Bose Premium Series Audio System with Centerpoint surround-sound technology, and Vanta Ash Wood Decor. The interior features a 13.4-inch touchscreen infotainment system, a 12.3-inch driver information center, and a 15-inch head-up display.
Engine
The GMC Sierra HD AT4X, which is only available as a 2500HD Crew Cab Standard Bed with four-wheel-drive, can be powered by either the standard 6.6 liters V-8 gasoline (401 hp/464lbft) or by the Duramax turbodiesel 6.6 liters (470hp and 975lbft), mated to an Allison 10-speed transmission.
AT4X diesel, which is the heaviest AT4X model, weighs 8,605 pounds. The AT4X gas, however, can carry a payload of up to 3,291 pounds. Maximum traditional towing comes in at 18,500 pounds (AT4X diesel), and fifth-wheel/gooseneck towing is at 18,000 pounds (AT4X gas). Trailering assistance and technology are abundant: Transparent trailer view, Trailer Side blind zone alert, Adaptive cruise control with Trailering, and 14 camera views.
AT4X AEV Edition is the GMC version (co-developed by American Expedition Vehicles or AEV) of the special edition Silverado 2500HD ZR2 Bison. This AT4X alpha gets AEV bumpers stamped in steel with integrated recovery points, and front winch capabilities (c'mon! Give us the winch too). Heavy-duty steel skid plates protect the engine and steering rack. They also protect transfer cases, exhaust, and transfer cases.
The Sierra HD AT4X AEV edition is rounded out by sleek 18-inch AEV Salta rims, distinctive exterior badging, and AEV logoed headrests for the front seats. The Sierra HD AT4X AEV Edition will be offered in both gas and diesel. The added gear adds approximately 375 pounds for each.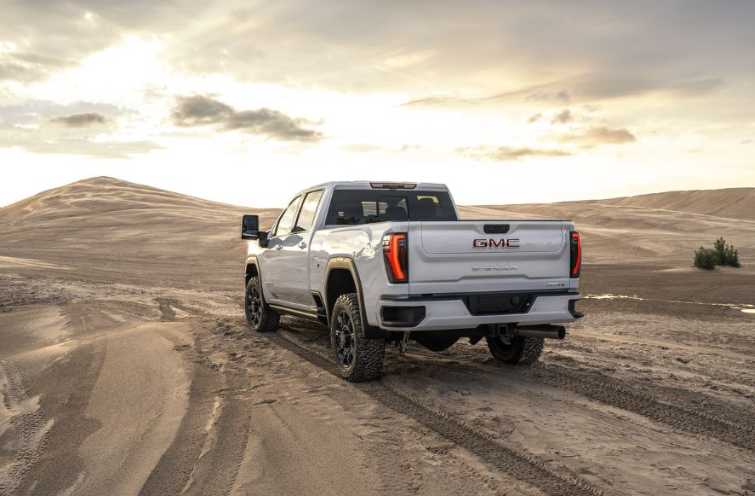 2024 GMC Sierra HD AT4X Price & Release Date
The 2024 GMC Sierra HD AT4X will be available in dealerships by the end of the summer of 2023. This is after the Silverado HD ZR2 arrives. The AEV Edition's price hasn't been revealed, but we can guess that it will be higher than the HD Denali Ultimate, which is $94,000. If we were to bet, we would choose the Sierra HD AT4X for Overland Expo's next "Ultimate Overland Vehicle".