A few weeks ago, the world witnessed the 2024 Chevrolet Silverado HD ZR2 Bison. It's the first time. The specification sheet has all the necessary fixings. Say you don't like the Chevy vibe. You wanted something a little more luxurious. You're in luck, right? Welcome to the 2024 GMC Sierra HD AT4X Edition. The truck is designed to carry, haul and pull all your belongings into the wilderness, with massaging seats.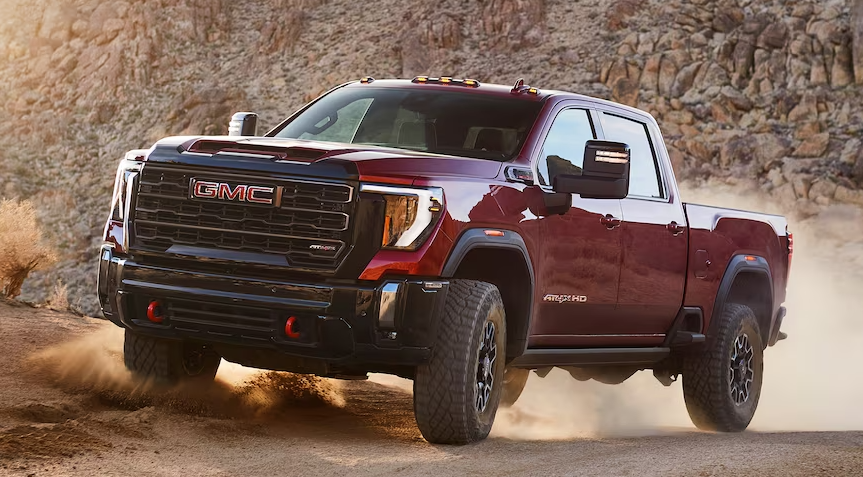 2024 GMC Sierra HD AT4X AEV Edition Review
The AT4X AEV Edition is available with robust, stamped steel bumpers that have integrated recovery points as well as front winch capabilities. This provides additional driver confidence and safety. The AT4X AEV Edition also comes with heavy-duty skid plates to protect vital components like the steering gear or transfer case on the trail. Other features include 18-inch Salta rims, exterior adding, and interior cues.
The heavy-duty truck shares the same performance-driven approach, dedication to detail, and off-road capabilities as the GMC Sierra 1500 AT4X. The turbocharged 6.6L Duramax Turbo-Diesel engine, which has been improved for 2024, will make this vehicle a beast on the road with 470 horsepower. If you do not want to go with the Duramax, there is also a standard 6.6L gasoline engine. Both engines come with Allison 10-speed transmissions that optimize power, torque, and efficiency.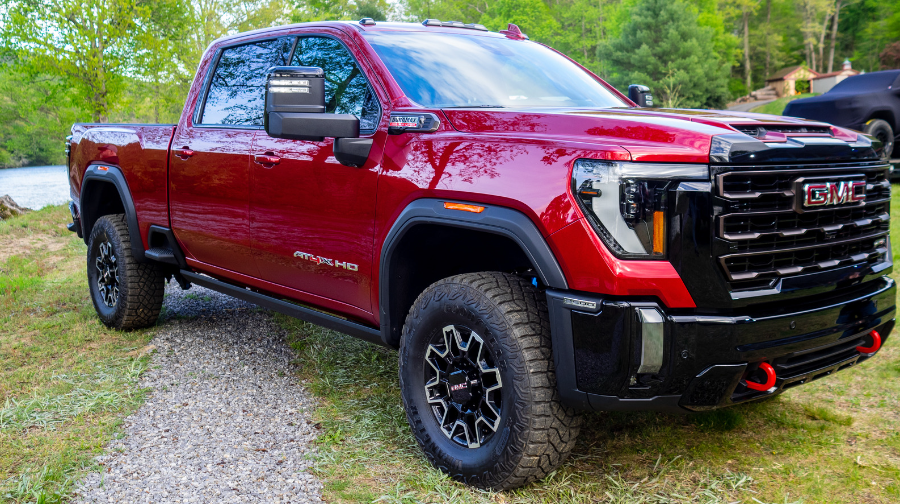 Off-Road mode is a new feature available on both the GMC Sierra HD AT4X and the AEV edition. Off-Road Mode, when activated, adjusts the vehicle's calibrations such as anti-lock breaks, traction control, and stability control to optimize performance off-road. Off-Road Mode also alters the throttle progression and transmission shifting to improve off-road performance and control.
AT4X is a trim level for the Sierra HD that has similar features to the Sierra 1500 AT4X, which debuted at Overland Expo Pacific Northwest. The AT4X trim includes a 1.5-inch suspension kit installed by the factory, Multimatic DSSV shocks, an electronic locking rear differential, 35″ Goodyear Territory Tires, sturdier Skid Plates, bespoke steering knuckles, and custom upper and lower control arm. Full-grain leather interior with massaging seats is also included. The Sierra HD AT4X also has an Off-Road mode, which optimizes brakes, throttle progression, and transmission shift points.
The GMC Sierra HD AEV Edition is a step up from the AT4X trim. The GMC Sierra HD AEV Edition has stamped steel bumpers on the front and rear with integrated winch points. The vehicle also has steel skidplates for the steering and transmission, 18-inch Salta wheels, and a unique interior.
AEV CEO Dave Harriton said, "The Sierra HD provides a foundation for off-road capabilities, on-road performance and incredible pulling power." As with the Sierra 1500, we used AEV's signature approach to performance and attention to detail to enhance the features that heavy-duty customers demand.
Engine
The GMC Sierra HD AT4X 2024 is equipped with a 6.6-liter V8 gas engine that produces 401 horsepower. It also has 464 lb.-ft. A 6.6-liter Duramax Diesel with 470 horsepower, and 975 lb.-ft. torque is available as an option. Both engines are connected to an Allison 10-speed automatic.
Changes
While a GMC Sierra 2500 HD properly equipped could tow as much as 22,500 lbs. (36,000 lbs. The AT4X can tow up to 18,500 pounds, which is not bad at all for an off-road luxury truck. GMC's ProGrade trailering system can help you with your hauling. This package features a transparent trailer, side blind zones alert, adaptive cruise, bed hitch assistance, and up to 14 camera views.
GMC has once again teamed with American Expedition Vehicles to offer an upgrade package for the AT4X trim. The Extreme AEV Edition adds stamped steel bumpers for the Sierra HD AT4X with integrated recovery points, front winch compatibility, and additional steel skidplates, as well as 18-inch AEV Salta rims. You also get unique badges both inside and outside.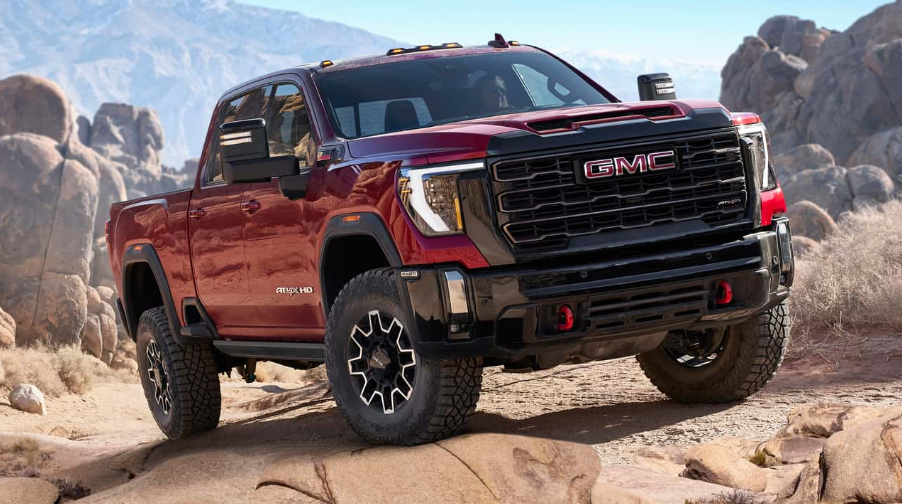 The 2024 GMC Sierra AT4X looks great, with its huge ground clearance. You can even fit a cup of coffee up on the tire's top without it hitting the wheel well. The knobby tires and sidewalls add strength, while the "off the beaten track" feeling is enhanced by the large sidewalls. This truck is nearly 21 feet long with more than 13 feet between the front axle and rear axle. The inherent size and shape of the truck limit its off-roading capabilities.
2024 GMC Sierra HD AT4X AEV Edition Price & Release Date
Cost is another concern. GMC will announce the pricing closer to fall. GMC Sierra 1500 AT4X begins at $83,545. That's nearly six figures to start out in one. This is a price that many people can't afford.