The 2024 GMC Sierra HD AT4X was only a matter of time after the Chevrolet Silverado HD ZR2 was unveiled earlier in the month. Chevy, Ford, and Ram are all vying for the top spot with their off-road pickups in every segment, even heavy-duty trucks that were previously known only for high towing capacity. Heavy-duty trucks are now mud-splattered because American automakers have invested heavily in off-road. The Sierra HD will receive an AT4x badge.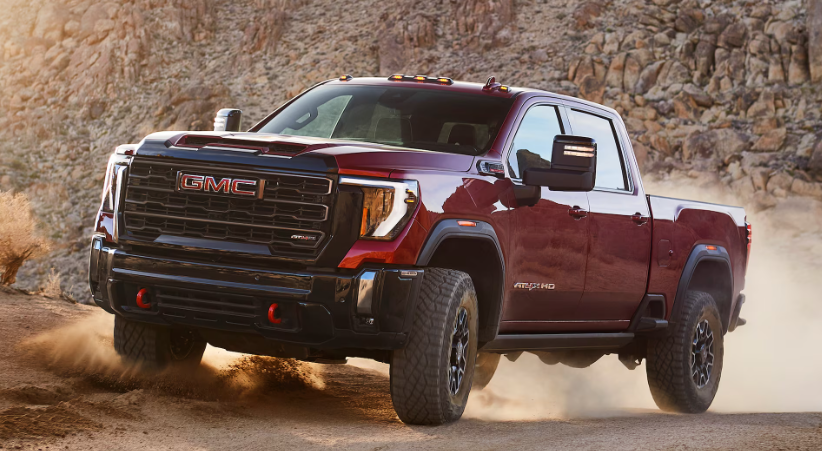 The previous Sierra HD came in an off-road-ready AT4 trim. This new model adds an "X", completing the GMC AT4X truck lineup, which includes the Canyon AT4X mid-size, Sierra AT4X full-size, and now the Sierra 2500 HD AT4X.
The Sierra HD AT4X will be available in an AEV Edition that includes all the features off-roaders are looking for right out of the box. There are steel skidplates to protect the steering gear, transfer case, and transfer gear, as well as stamped steel bumpers that have integrated recovery points.
2024 GMC Sierra 2500HD AT4X Models
The AT4X badge was first introduced to the Sierra HD in 2022, but the AT4X badge is now available on all Sierra HD models starting with the 2024 model. The regular AT4 was previously the top-of-the-line off-road option for heavy-duty pickup trucks. It is available on both the 3500HD and 2500HD. The AT4X can only be ordered on the 2500HD with a crew-cab body and a standard-length cargo box.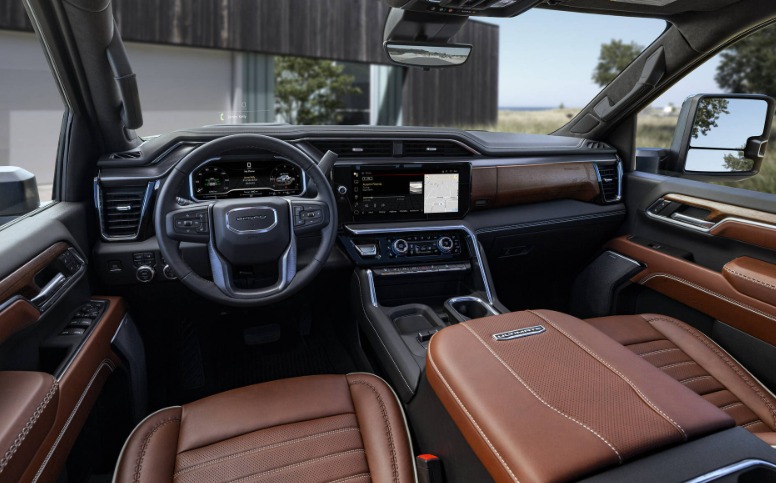 The Sierra 2500HD AT4X shares many of the same features as the 2024 Chevy Silverado ZR2, which was recently unveiled. Both trucks are equipped with black 18-inch wheels and 35-inch Goodyear Wrangler Territories M/T tires. Multimatic DSSV spool valve dampers are used to support the AT4X truck's suspension, which is 1.5 inches higher. These fancy shocks are also found on race cars and trucks. They feature three separate spool valves to improve on-road stability and resist off-road abuse.
The 2024 Sierra 2500HD AT4X also features a unique upper and lower control arm, as well as a revised suspension front with improved steering knuckles. A larger steel skid plate for the transfer is added to the front bash plate, which protects the bottom of the truck from damage. The AT4X kit also includes an electronic locking rear differential and an Off-Road mode for tackling tough obstacles.
Engine & Specs
Customers can choose from two engines: the standard 401 horsepower gas-fed 6.6 liter V-8 engine or the optional Duramax Diesel 6.6 liter V-8 which produces 470 horsepower with an impressive 975 pounds-feet torque. The AT4X, and other Sierras with less heavy-duty capability, lack the hardcore hardware found only on the Extreme AEV edition. It's a fortified AT4X with exclusive parts from an AEV aftermarket supplier. The off-roader is equipped with front and rear bumpers stamped in steel that include a winch and recovery points. AEV's gloss black 18-inch AEV-specific wheels and tougher underbody armor complete the package.
The AT4X and Extreme AEV Edition have minor differences in terms of technical specifications. Both versions have the same 25.7-degree departure angles, and their ground clearances are virtually identical at 11.6 to 11.7 inches. The AEV, however, has a slightly steeper breaking angle (22.6 degrees versus 21.2). The AT4X, on the other hand, has a steeper approaching angle (31.6 degrees versus 29.8). GMC claims that the AEV add-ons make it heavier. The gas-fed version is 378 pounds heavier and the oil-burning version is 368 pounds heavier.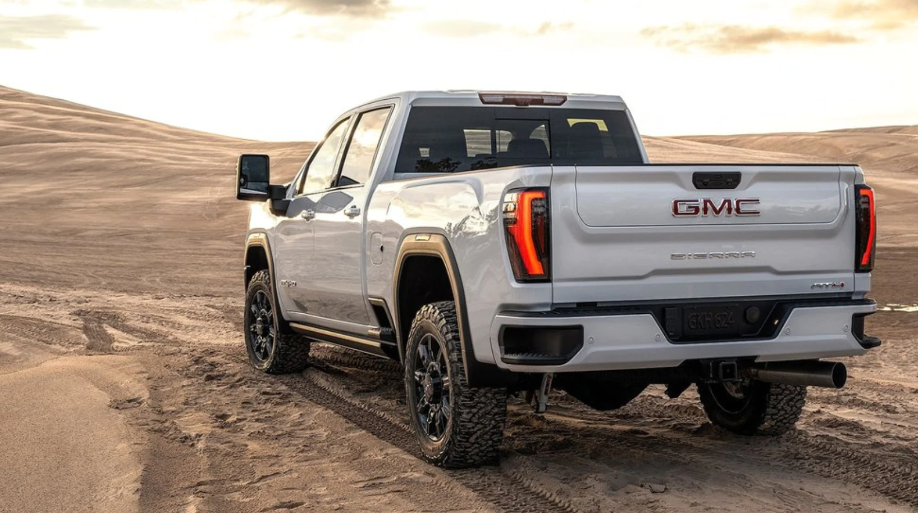 The AT4X and Extreme AEV Edition benefit from GMC's updates to the 2024 Sierra HD line, which include a refreshed interior and new styling. The AT4X and Extreme AEV Edition also feature desirable features such as a 12.3″ digital gauge cluster, a 13.4″ center touchscreen, a head-up screen, etc. Each model has several luxury features, including genuine wood interior trim and leather upholstery. The front seats are also massaging, as is the Bose 12-speaker sound system.
2024 GMC Sierra 2500HD AT4X Release Date & Price
Production of the 2024 GMC Sierra AT4X and Extreme AEV Edition is expected to begin this fall. GMC has not revealed the price of either version, but we anticipate a base cost of around $90K with an additional $8000 for the AEV-enhanced model.