Recent patent filings have unearthed Volvo's next XC90 flagship SUV, and it appears the large Swede will embrace the electron revolution with open arms. Volvo has confirmed that the EV will be named EX90 and will be sold alongside a facelifted version of the XC90, as there's still strong demand for hybrid models in North America and China.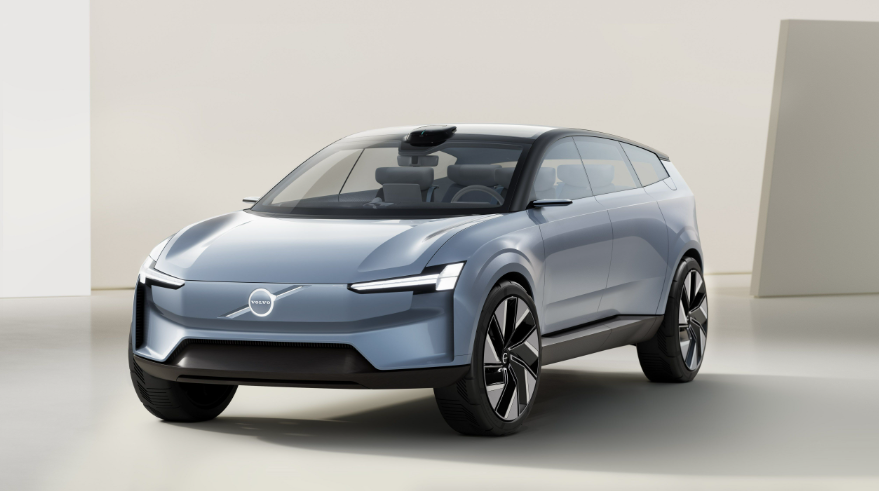 To offer the most accurate preview yet, we've given the patent images an illustrative overhaul whilst sleuthing out its electrified powertrain, tech, and everything else we can expect.
2025 Volvo EX90 New Design
The present XC90 is a handsome exercise in Swedish flair; it's well-proportioned without being saddled with imposing grilles, chrome, and peculiar details. Fortunately, its successor carries the same ethos with a contemporary persona inspired by last year's Recharge Concept. There's no mistaking its EV fundamentals, with a suggestive grille panel flanked by a pair of Thor's Hammer headlamps and corner vent inlays. From the side, it looks like a stretched XC60 wearing Polestar sheet metal with finely tailored shoulder lines and crisp fenders.
Out back, the cascading taillamps of old make way for a split-unit arrangement. Direct illumination comes from a full-width, C-Clamp unit with what appears to be secondary LEDs positioned vertically flush against the rear glass. The interior dimensions of the large three-row crossover will grow, reflecting its new EV-based underpinnings. Curiously, the interior's patent images included below also depict a horizontally themed dashboard with a huge portrait-style infotainment screen, but they don't show any instrument cluster ahead of the driver.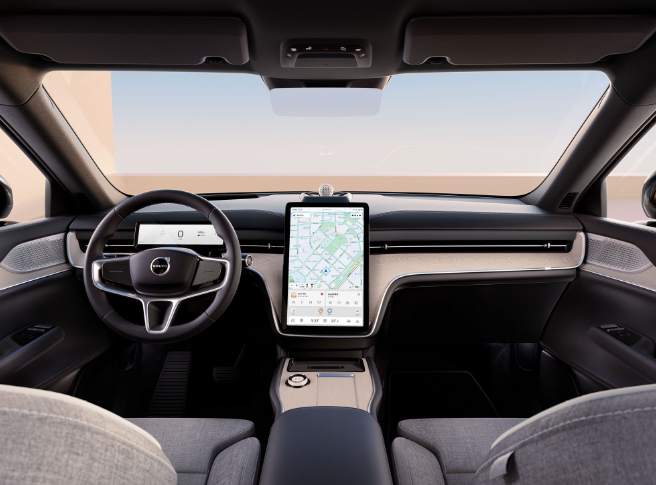 Instead, critical driver information could come from a steering column-mounted display or an augmented-reality head-up display system. In an air of Scandinavian simplicity, minimalistic air vents run the entire width of the dash, and the central armrest is a multilevel, freestanding affair with clever storage solutions. Tech goodies will include Android-powered infotainment with wireless Apple CarPlay, Android Auto, and over-the-air updates (OTA).
Futures
Powering the EX90 will be single and dual-motor options, with anticipated output in the 400-455 hp ballpark. Electron storage will likely come in the form of a 100kWh lithium-ion battery pack tethered with an 800-volt architecture, enabling competitive DC fast charging and a driving range of over 372 miles (600 km).
Reports indicate that the large crossover will ride upon the automaker's Scalable Product Architecture (SPA2) that underpins the upcoming Polestar 3. It will also embed Nvidia Drive-powered autonomous driver-assist capabilities with the inclusion of LiDAR technology in tandem with highly advanced sensors. Whereas the ICE XC90 is built in Sweden, its electric replacement will be made at the brand's South Carolina production facility.
Key Rivals and Reveal Timing
The XC90's successor will go head-to-head with electrified offerings like BMW's iX, Mercedes-Benz EQE SUV, Audi E-Tron, Tesla Model X, and Cadillac Lyriq. Keen Volvo enthusiasts won't have to wait much longer, as an official debut will take place on November 9, 2022, with sales to start in the following months. What do you think of the XC90's electrified replacement? We'd love to hear your views in the comments below.
Engines
From a report teknikensvarld.se published in June 2020, we learned that Volvo would offer the new XC90 in "B" mild-hybrid and "T" plug-in hybrid variants. This lineup is no different from what is available today and supported by the visual updates, the current vehicle should serve as the classic alternative to the new flagship electric vehicle.
Volvo Cars brought a significant technical revision to the XC90 Recharge with the MY2022 update ahead of the upcoming redesign. The company updated the SUV's plug-in hybrid system to produce more power. Volvo Cars changed the XC90 Recharge's 2.0-liter from a supercharged and turbocharged unit to a 2.0-liter turbocharged unit and replaced the old electric motor with a more powerful electric motor.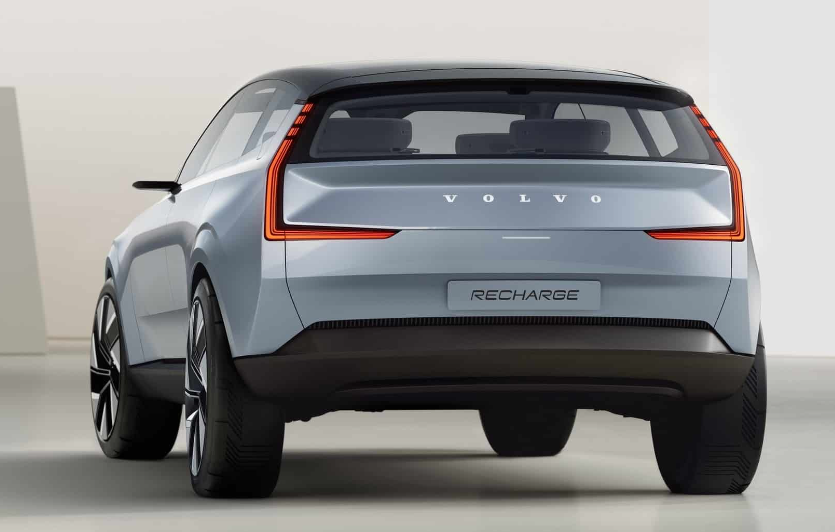 This upgrade increased the system power and system torque by 55 hp to 455 hp and by 51 lb.-ft. to 523 lb.-ft. The company replaced the battery pack, too, swapping out the 11.6 kWh lithium-ion battery pack with an 18.6 kWh unit. As a result of the various revisions, the XC90 Recharge's EPA-est. range doubled from 18 miles to 36 miles, EPA-est. total driving range increased from 520 miles to 530 miles, and EPA-est. energy consumption was reduced from 58 kWh/100 mi to 49 kWh/100 mi.
2025 Volvo EX90 Release Date
Refreshed in February 2019, the XC90 is the oldest SUV in the company's line-up. The XC90 is a core product for Volvo Cars in the U.S., which, in turn, is one of the biggest markets for the model worldwide. In Q1 2023, the company sold 9,828 units of the XC90 globally, and 2,834 units, or nearly 30% of them, went to customers in the U.S.
Volvo Cars could reveal the restyled XC90 later this year and launch it in the U.S. as an MY2024 model. If not this year, we're expecting the improved version in 2024. Meanwhile, the all-electric EX90 will begin arriving at dealers in early 2024. Unlike the XC90, which is shipped from Europe, the EX90 will be made in South Carolina (USA).