It is no secret that the 2024 Volkswagen ID. Buzz has become a huge deal. It's so big in 2023 and beyond the 2nd of June has been designated the "International Volkswagen Bus Day" in which the long wheelbase ID. Buzz was also honored for its world debut. It's worth celebrating depending on how big of an enthusiast you are for the German automaker or the infamous Type 2 Bus that became the ultimate "hippie van".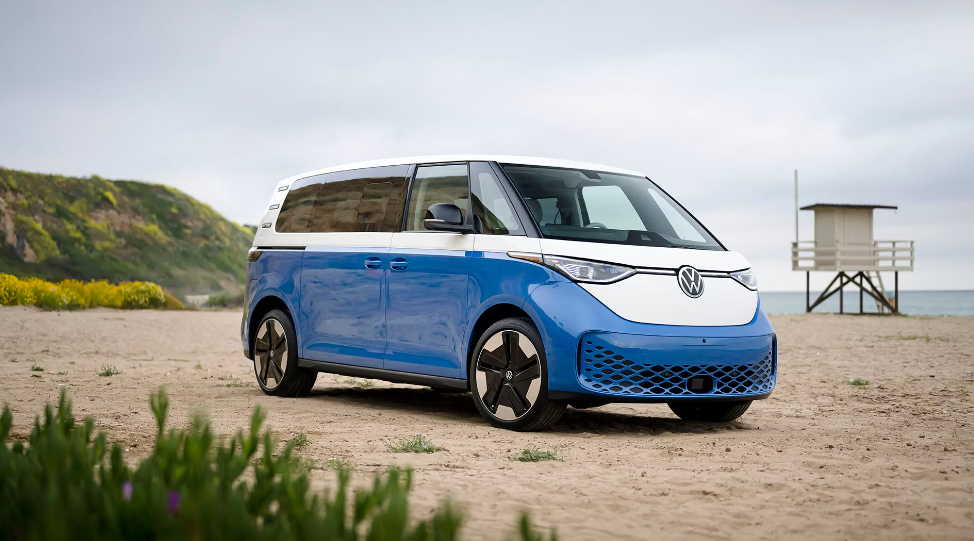 If you're looking for an electric automobile (EV) capable of carrying your family and other items it's possible to be patiently waiting for the next series of 3-row electric vehicles by Kia and Hyundai or you can buy an all-new Rivian R1S or Tesla Model X. While the three-row EVs are excellent but none of them has the same history as ID. Buzz If you're thinking of getting one for yourself Here's all you must know about ID. Buzz.
2024 Volkswagen ID.Buzz LWB Review
The header might have confused you, didn't it? The thing I'm trying to convey is that you only purchase ID. Buzz ID.Buzz for the longer wheelbase version of North America, while those located in Europe are also able to get the standard wheelbase version. For me, I think the long wheelbase ID. Buzz appears even more stunning when stretched which is in keeping with the retro-futuristic appearance of this electric vehicle. In terms of retro-futuristic styling the Volkswagen ID. Buzz is stunning.
The expanded dimensions of this North American model look appealing, at least in my opinion. Alongside its small overhangs as well, the ID. Buzz seems to have dynamic proportions that do away with the monotonous shape vans are famous for. The long wheelbase ID. Buzz also has some exclusives specifically for North America, such as the illuminating VW logo and the ID. Buzz's image color, is Cabana Blue. Metro Silver and Indium Grey are the other colors that are exclusive to North America as well.
20-inch wheels will also be available as the standard option, although we believe smaller wheel sizes could be added later on. It will also increase the with range as bigger alloys can reduce the range of electric vehicles. The rear aero flicks that are located in the D-pillar are also helpful in improving aerodynamics, not being a tribute to the classic Type 2 Bus. Naturally, like all modern cars, it is expected that the ID. Buzz will feature the latest driver-assistance technology, including the typical automated emergency braking, alerts for lane departure, and blind spot warnings along with rear cross-traffic warnings for just a few. Then, no one's got the strength to open a sliding door or open a tailgate these days which is why we expect these to be powered too.
Designs
The 2024 Volkswagen ID. Buzz is retro and stylish as it is one of the rare vans that you'll probably be strained by the head-turning nature of it. The retro-futuristic style is evident throughout the interior, making it seem as if you're in an echo room due to its hugeness. Similar to the exterior, a dual-tone interior color scheme can also be picked. White is the most prominent interior color, and it can be mixed with other colors to highlight the brightness of white. The Original Type 2 Bus is a fun car, which is why it's great to have Volkswagen providing the ID. Buzz with amusing features like 30-color ambient lighting as well as a Harman Kardon sound system, and the biggest sunroof installed on a vehicle manufactured by Volkswagen. Volkswagen Group.
Drivers will see a 5.3-inch digital display that is mounted on the top of the wheel column and the 12.9-inch infotainment unit is running a brand-new and more responsive software called the ID.7. Unfortunately the capacitive touch sliders for volume and climate controls aren't gone however, they're now lit. The physical controls are back in the steering wheel, so let's hope that the physical control for climate returns too.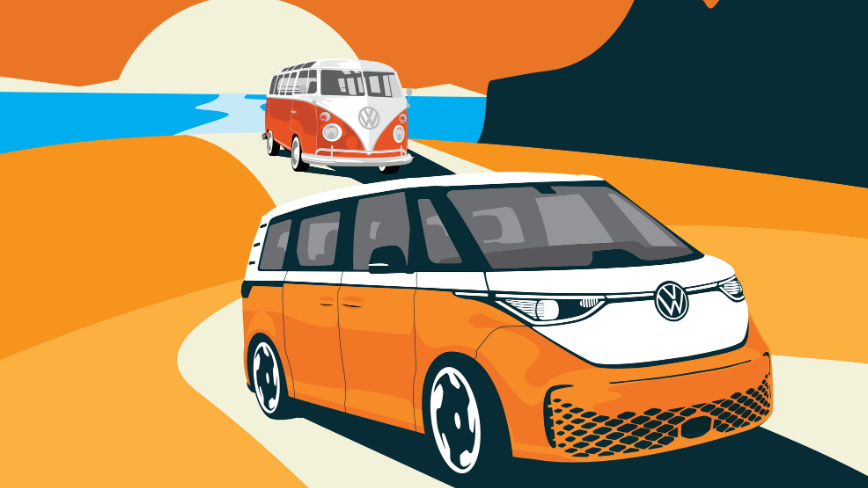 It's a North American ID. Buzz is a complete 10 inches more than the European standard wheelbase model Together with Volkswagen Group's MEB EV-focused architecture engineers were able to make a lot of space in the electric van. In actuality, placing down all the seats in the rear allows you to make a space nearly the size of the size of a double bed. We'll let you do whatever you want to do because of that huge amount of space. Regarding seats The North American ID. Buzz comes with three rows of seating and includes seats that heat up for the people in the second row. If you'd like a second-row chair or captain's chair will depend on your and your family's requirements. If your family members happen to be vegan they'll be pleased to hear that no animals were hurt when it was made. vegan leatherette upholstery.
Powertrain
The larger body, and consequently the larger 91 kWh (gross in use, but not usable) battery signifies that Volkswagen was able to install stronger electric motors over other models, including the European version. The standard wheelbase version in one-motor rear-wheel drive (RWD) comes with 201 horsepower, while the longer wheelbase model has the equivalent of 282 horsepower and 406 pounds of torque. It's not the only thing, since there will be a dual motor all-wheel drive (AWD) version will also be offered, and is expected to produce "about" 330 horsepower more than the Civic Type R.
Unfortunately, the details regarding the power and range, are hidden from view However, it must be mentioned that the large electric vehicle comes with the lowest drag coefficient, which is 0.29 Cd. So a car like the Hyundai Ioniq is more efficient in terms of 0.21 however the ID. Buzz's figure is sufficient to be an aerodynamic shoebox mounted on wheels. This should help in terms of range, but we think it won't exceed 300 miles, as the EPA will likely consider the car.
If batteries aren't officially disclosed, the charging speed and durations are also not known. To get some idea about what we can expect, we need to travel to Europe and check out the wheelbase standard ID. Buzz can accomplish this. The version they use is similar to the ID. Buzz is smaller, with an 85 1 kWh (gross 77 kWh usable) battery. assumes that the ID. Buzz's longer wheelbase will feature the same design, so expect the DC charger to reach 170 kW. This will enable up to a five-to-80 percent charge in just 30 minutes.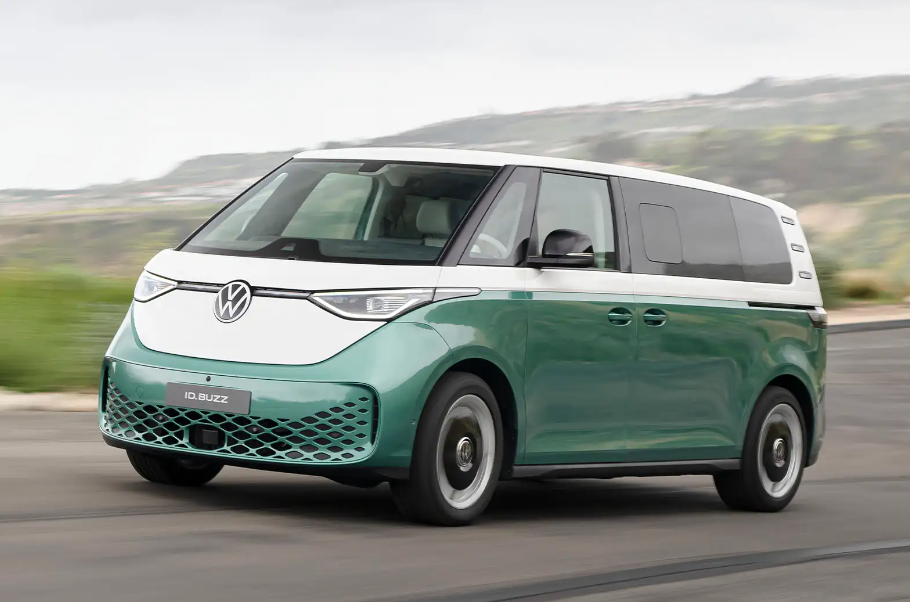 2024 Volkswagen ID. Buzz LWB Revealed
Unfortunately, if you're interested in an ID. Buzz right now, then you'll need to wait a bit longer. The sales of ID. Buzz will begin in 2024. At that point, the vehicle will be available to dealers as a model-year 2025 vehicle. Although you can go to a Volkswagen dealer now to express your interest, waiting over a decade after the vehicle is unveiled is quite a long waiting time. In that time there are likely to be better and more modern rivals that could already be revealed, thereby removing any advantage of the ID. Buzz would have gained if the vehicle were available now.
For those who live in Europe The long wheelbase ID. Buzz will be available in the early 2024 timeframe as 2024 is the model year, which is way in advance for North American buyers. While a cargo model with a windowless design isn't yet confirmed, however, it wouldn't be a shock if the European market gets one, too.