Although still by far the most popular mid-size pickup on the market, the Tacoma is due for a complete redesign. According to the latest reports, the next generation is expected to arrive in the next year and the expectations from it are pretty big. Not only that we expect to see things like a new design, new interior, and similar improvements, but this pickup is also about to get a completely new powertrain lineup. Among the new powertrain options, we also count on the 2024 Toyota Tacoma Hybrid, which will be Toyota's move to improving fuel economy.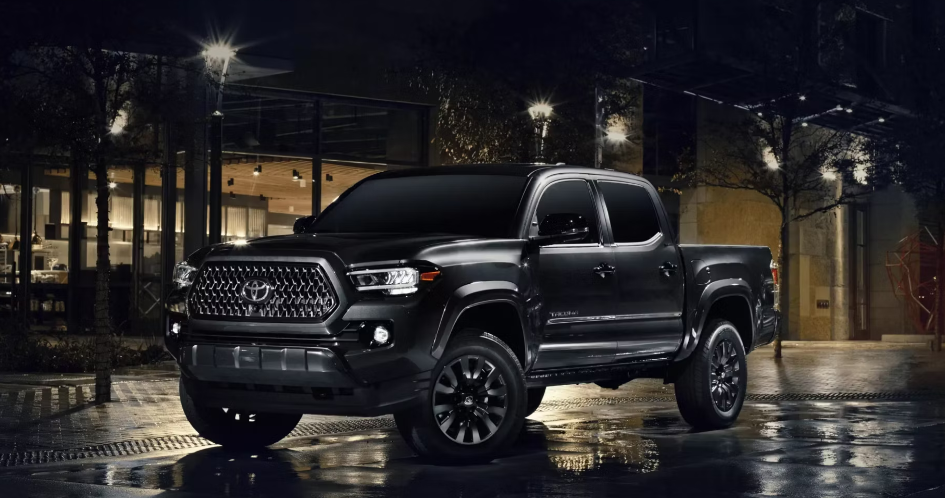 The new model won't just benefit from the new powertrain. It will also look much better and it should come packed with a full load of tech features. We also count on improvements regarding towing capacity, while another off-road version has been rumored as well.
2024 Toyota Tacoma Hybrid Review
This redesign will bring a lot of new things and one of them will be the powertrain. The old and thirsty 2.7- and 3.5-liter engines will be discontinued and one of the replacements will be a hybrid powertrain, which should ensure significantly better fuel efficiency.
At this point, details are still unknown but it is expected that the 2024 Toyota Tacoma Hybrid will come with a new system, based on a 2.4-liter turbo-four engine. This gasoline unit would come in pairs with one or two electric motors, and we estimate a combined output of around 350 horsepower. The system should be pretty similar to the one found in the new Crown, which also comes with a 6-speed automatic gearbox. We expect that the new 2024 Toyota Tacoma Hybrid will use a classic automatic instead of a CVT, for improved driving experience and overall performance.
Other than the hybrid powertrain, the new Tacoma should also be offered with a 2.4-liter turbo-four, with a max output of 275 horsepower and 317 pound-feet of torque. This engine comes coupled with an 8-speed automatic transmission. The new hybrid powertrain won't be the only important change of this redesign. We are about to see a completely new pickup, based on the new TNGA-F platform, the same one that already underpins models like Tundra and Sequoia. The benefits from the new platform would be numerous, starting from weight reduction, lower center of g, gravity, etc.
Most importantly, the new generation will bring chassis reinforcements. It looks like the new Tacoma will finally get a fully boxed frame, which will make the pickup more rigid, and more capable in every aspect. Besides the new chassis, we also expect to see a completely new suspension, with more refined solutions. This particularly refers to the rear end, which should replace the old leaf springs with a more modern, coil-springs-based suspension.
Exterior
Naturally, we also expect to see new styling and a completely new exterior design in general. The new styling should follow the brand's latest design language and a lot of Tundra aesthetic solutions should be applied to the new Tacoma. Of course, there is also plenty of room for exclusive details. Once again, we count on two cab styles on offer, extended and double cab variants of the pickup.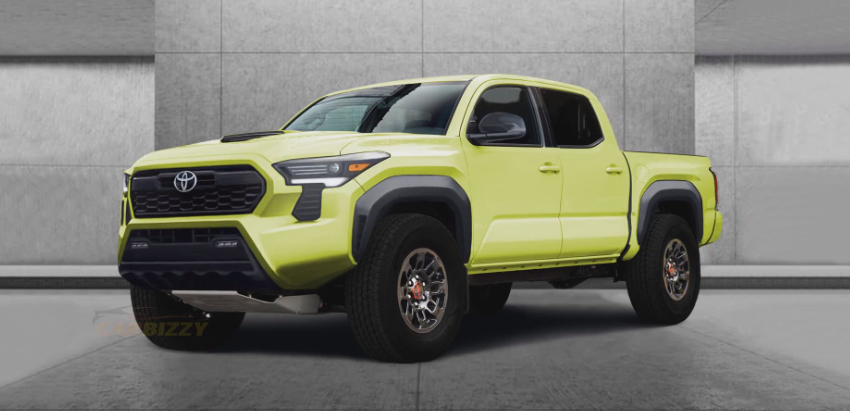 Just like the current generation, the new model should come with the famous TRD Pro trim on offer, which brings various off-road upgrades, such as low-range gearing, locking rear differential, FOX shocks, and other suspension upgrades, etc. It looks like Toyota is now preparing an even more capable off-road variant of Tacoma, with additional pieces of off-road hardware, though we still don't know the details.
Interior
This is another aspect of the 2024 Toyota Tacoma Hybrid that should bring notable improvements. Namely, the current generation doesn't impress in this aspect. Instead, it looks outdated and lacks modern tech features. This should be fixed with the upcoming redesign, where we expect to see a much nicer interior, with finer materials, better overall quality, etc. The dashboard will bring a new design, once again with a lot of inspiration from the full-size Tundra, and a full load of tech and convenience features, including a large optional infotainment screen and digital instrument cluster.
Also, we hope that the new cabin will offer more passenger space because the current model isn't particularly generous in this aspect. Instead, it feels pretty tight, especially in the second row and especially when compared to rivals like Gladiator or Ridgeline.

2024 Toyota Tacoma Hybrid Release Date & Price
The 2024 Toyota Tacoma Hybrid is expected to arrive shortly. Most sources believe that will happen sometime in the next year, though we still don't have a more precise date. Considering that this will be the first hybrid Tacoma, we won't predict the starting price either.