Peugeot wants its 2008 to be innovative and competitive to grab a bigger share of the B-segment crossover market. The model has been given a mid-cycle facelift to bring it in line with the new visual identity that was introduced earlier this year for the 508 model.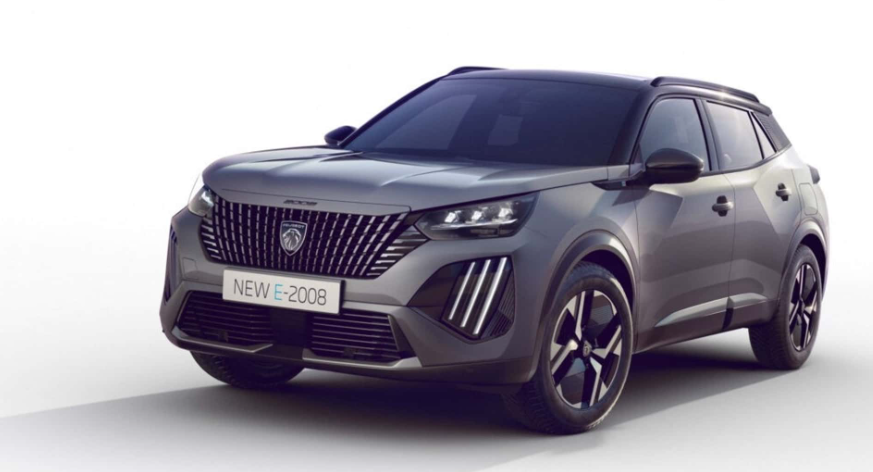 The bumper inserts are glossy black and have three vertical lights that look like claws. The GT flagship trim features full-LED headlights with the same distinctive design. Peugeot's LED rear lights now have a "three claw" design with three double slats horizontally superimposed. Both the turn signal and reverse light are LED models. The exterior features 16- to 18″ wheels that are based on those available for the 408 as well as other novelties.
The GT is a two-toned paint job, with a standard black roof. Its launch color was selenium grey. All 2008 models, regardless of color will have black side mirror covers. Inside, the Peugeot 2008 2024 has a 10-inch touchscreen, compared to the first two trims of the previous model, which only had a seven-inch screen.
2024 Peugeot 2008 Review
Upgrade to the Allure GT and you will get a 10-inch digital instrument panel with 3D effects on the GT. The small crossover comes with analog dials if you choose the Active base model. On models with manual transmissions, the shift knob has been upgraded. Peugeot increased the E-2008's power and range.
The E-2008 gets an electric motor that has 156 hp, a 15% improvement. This is thanks to the E-208's and E-308's hardware being carried over. Battery pack increased from 50 to54 kWh. This resulted in an increase of 345 to 400 km (214 to 252 mi) in the WLTP range when using the combined cycle. In early 2024, a hybrid powertrain featuring a gasoline engine with 136 hp and a dual-clutch gearbox with a motor electric will be added.
Engine
It is claimed that compared to a petrol engine without a hybrid, fuel consumption can be reduced by up to 15%. Peugeot goes as far as saying that owners should expect to commute in cities using only electric vehicles. Peugeot GT 2008 still offers a 1.2-liter, three-cylinder gasoline turbocharged motor for those who prefer a simpler drivetrain.
It produces either 100 hp when paired with a manual six-speed gearbox, or 130 hp when paired with an automatic eight-speed. The 1.5-liter, 4-cylinder diesel engine with 130 horsepower is available only in the auto. Peugeot 2008 2024 will be sold this summer, along with the E-2008 all-electric.
Exterior design
The Peugeot 2008 2024 displays all the beautiful characteristics of a mini SUV crossover. The three claws are the distinctive identity of a valiant Lion, and they dominate the display details on both the exterior and the interior of the New Peugeot 2008. The grille is wider and has LED technology. Daytime running lights are also included in the headlights.
The exterior of the Peugeot 2008 is a mix of different looks, depending on the model selected. The 2008 base model comes with Elborn wheels. Higher-level models come with special 17-inch Alloy Wheels, and highest-level models have 18-inch Alloy Wheels with diamond accents. Some of the higher-level models, such as the 2024 Peugeot 2008, include wipers that have an automatic rain sensor. They also feature power folding mirrors, automatic dimming, and automatic dimmer.
Dimensions and Color
Peugeot 2008 2024 has only the Orange Fusion Metallic exterior color standard on all models. However, several other colors can be ordered for an extra fee of PS600-PS780, or $727-$945, including Cumulus gray, Nero, black, Nimbus, Pearlescent, Elixir, red Signature, Vertigo, blue, and Vertigo Signature. The Peugeot 2008 2024 has an exterior dimension range of 4300 mm/169.3 ins, a maximum of 1987 mm/78.2 ins, a height of 1530 mm/60.22 inches, and a wheelbase of 2605 mm/102.5 inches.
Interior
The 2024 Peugeot 2008 interior is also different at every level. The interior of the base model, however, isn't disappointing. It has a maximum passenger capacity of five, with soft fabric seats that can be upgraded to leather. However, they can only be adjusted by hand, and the steering wheel is covered in leather.
The 2024 Peugeot 2008 interior adds more luxurious materials to some models. These include special leather covers and seats that can adjust in 14 directions. It also has heated leather-covered steering wheels and heated leather-covered seats. Even interior lighting is enhanced with LED technology and ambient lighting.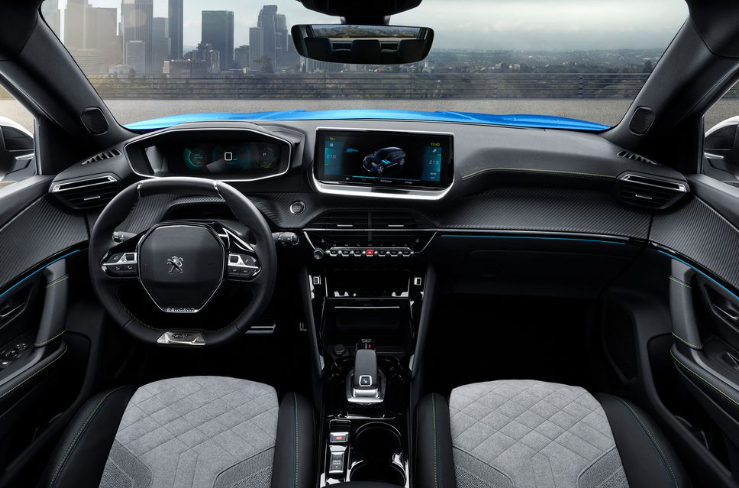 All 2008 Peugeot models come with a variety of standard features, such as a seatbelt alert feature, a steering wheel that can be adjusted electronically, dual-zone temperature control, a start/stop button, and connected SOS assistance. Rear parking. Meanwhile, at the higher model level, the New Peugeot 2008 SUV gets more modern features, including a 180-degree backup camera, smartphone-integrated features, and smartphone charging.
Model variants GT receive 8-tone ambient illumination, as well as Power Sunroof. They also add Automatic Emergency Braking with pedestrian sensors, Front and Rear Parking Sensors, Reverse Camera, Blind Spot Area Control Assist, and Adaptive Cruise Control.
Information and Entertainment
Each model variant has a personalized placement of the PEUGEOT iCockpit. Peugeot 2008 2024, the basic model, comes with a 3.5″ multi-information screen, multimedia screen housing a 7″ touchscreen, DAB, 6 speaker audio radio, and mp3 player. Apple Carplay, Android Auto, and Bluetooth are also included as standard in all variants. The model variant above adds a 10-inch LCD touchscreen, as well as a premium audio system.
The New Peugeot 2008 comes with a variety of gasoline and diesel engine options for each model. Each engine is slightly different, depending on the model version of 2008. The base configuration has power outputs between 99 and 155 horsepower.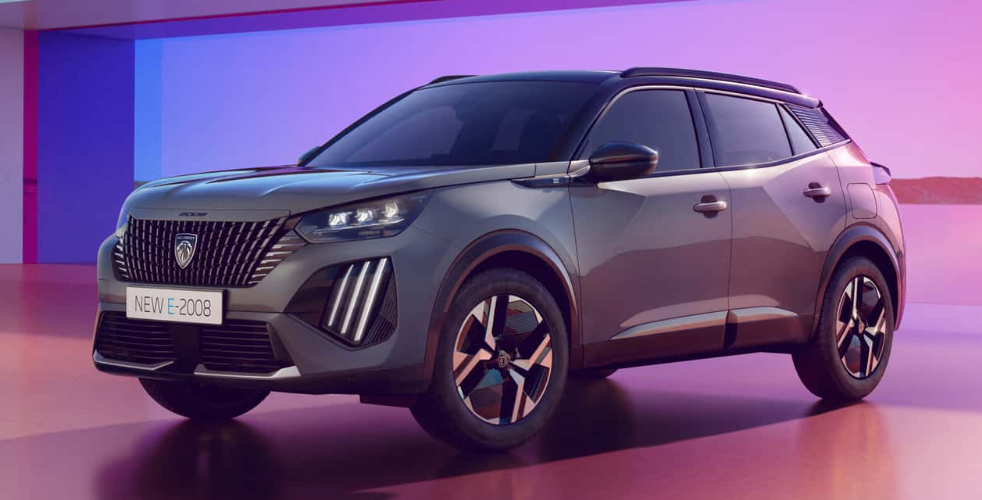 2024 Peugeot 2008 Pricing
New Peugeot 2008 Active PS21.650 to PS24.450 Equivalent to $25,197 to $30,585.
New Peugeot 2008 Allure from PS23,625 – PS26,450, or $28,586 – $32,005
New Peugeot 2008 Active premium PS23,250 – PS24,455 Equivalents to $28,133 – $29,591
New Peugeot 2008 Allure premium PS25,400 – PS28,150 Equivalent $30,734 – $34,062
New Peugeot 2008 GT Line PS27.500 to PS29.250 Equivalent to $33,275 – $35,393
New Peugeot 2008 GT PS27.500 to PS33.150 Equivalent to $33,275 – $40,000
New Peugeot 2008 GT Premium PS 27,750 – PS 33,150 Equivalents to $33,578 – $40,112