Mercedes revealed the all-new Mercedes AMG C63 Performance 2024 with a brand-new engine and powertrain. The old model had a 4.0 liter V8 engine which produced 469 or 503. The new Mercedes AMG C63 2024 will have a new powertrain and engine that will produce more torque and power.
Mercedes recently revealed the new Mercedes AMG C 63. It will feature a brand-new 2.0-liter 4-cylinder engine and an electric motor, which will generate a combined total power of 671 horsepower and 752 lb.-ft. This new Hybrid AMG C 63 is going to be more powerful and faster than the previous model. Mercedes claims that the car will accelerate from 0-60 MPH within 3.3 seconds.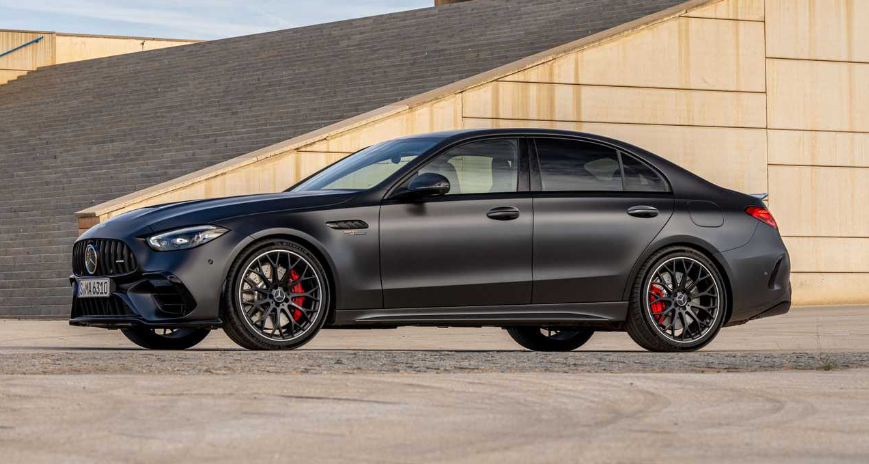 Hybrid sedans are expected to arrive in dealerships by the middle of 2023. Mercedes is a very popular brand in the world. It's expensive but you will get the best. Mercedes' vehicles are not only attractive but also feature modern technology and safety features. Why is it so expensive?
2024 Mercedes-AMG C63 Overview
Mercedes replaced its 4.0-liter engine with a hybrid powertrain for the all-new Mercedes AMG C63. It is now equipped with a 2.0-liter turbocharged 4-cylinder engine and an electric motor, which will produce more power than its previous 4.0 liter V8 engine. Here is a brief overview of the new Mercedes-AMG C63 Performance 2024.
Interior
Mercedes is well-known for its luxury interior features and design. As you can see from the interior picture, Mercedes AMG C63 has an interior that is more luxurious, with impressive lighting and modern technology. The seats of the Mercedes AMG C63 are also made from quality materials.
The vehicle has a five-passenger capacity. The interior is similar to that of a Mercedes Benz C-class and has an infotainment unit. The car also has a large touchscreen infotainment system that supports Apple CarPlay or Android Auto.
Engine Performance and Transmission
We know that the 2024 Mercedes AMG C63 plug-in hybrid is a brand-new model for Mercedes. It comes with a new Plug-in Hybrid engine powered with a 2.0-liter four-cylinder with an electric motor.
This generates 671 HP combined with 752 lb. ft. of torque. The 9-speed transmission sends all the power to an all-wheel-drive drivetrain. Its performance has been rated as good. Mercedes claims that its 0-60 MPH acceleration can be achieved in only 3.3 seconds.
Fuel economy
The EPA did not release a fuel efficiency rating for the Mercedes AMG C 63 in 2024. We expect its fuel efficiency to improve due to the engine improvements. The plug-in hybrid engine is equipped with a lithium-ion 6.1 kWh battery, which can provide a range up to 8 miles. The system can be charged with an onboard AC charger of 3.7 kW.
Safety Features
Mercedes hasn't revealed any more details about its safety features. We expect that it will have standard driver assistance features, like C43. When all safety features have been revealed, we will update this article. You can check the crash test results on NHTSA's official website. These safety features should be standard.
Standard automatic emergency braking system with pedestrian detection
Lane-keeping assistance with available lane departure warning
Available adaptive cruise control and lane-centering features
Infotainment
All models are expected to come standard with an 11.9-inch touchscreen infotainment display. A 12.3-inch digital gauge is also expected to be standard. Apple CarPlay or Android Auto will likely be included as standard features for wireless connectivity.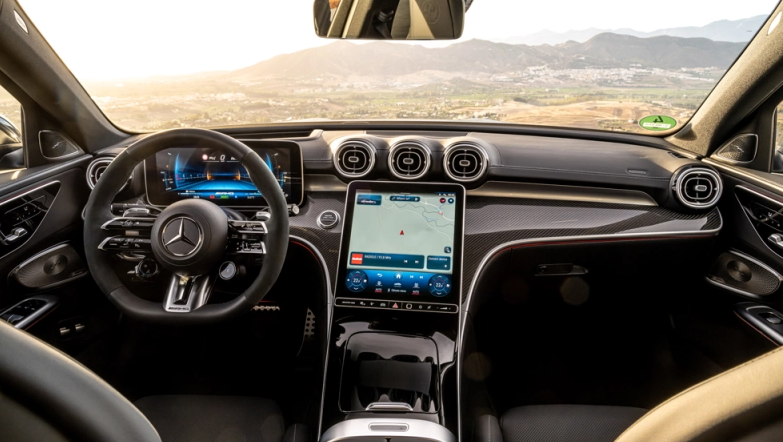 Colors
The color of the Mercedes AMG C63 2024 is still unknown. It is shown in a high-tech, silver color. We expect it to be available in Graphite Grey Blue and Red.
2024 Mercedes-AMG C63 Release Date & Price
Mercedes revealed the new 2024 AMG 63, which will feature a hybrid powertrain with more torque and power. Mercedes hasn't announced the exact date of its launch at the dealership. We expect the 2024 Mercedes-AMG C63 Performance to be launched at the beginning of 2023 and arrive in dealerships by the end of the year 2023.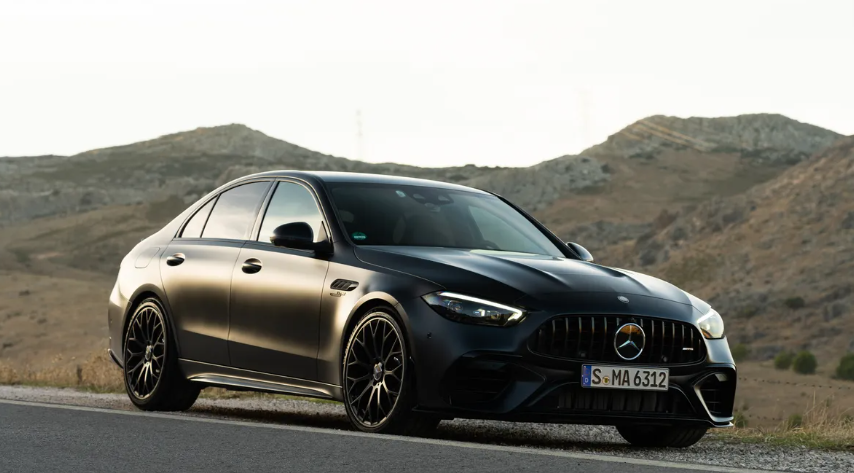 The Mercedes AMG C63 2024 was only available in a single trim level and configuration. Mercedes AMG C63 Performance SE is the name of this trim. Mercedes has just revealed this new model, although it does not specify its exact MSRP. We expect its price to start at about $85,000.