Embracing the challenge of enhancing the ever-thriving segment of adventure-ready SUVs requires a deep sense of commitment, and the all-new 2024 Lexus GX proves it is more than ready to rise to the occasion. This remarkable vehicle effortlessly combines a blend of refined features, off-road capabilities, and the unmistakable luxury that Lexus is renowned for. With a complete redesign from the ground up, the GX draws upon its 20-year legacy in the Sport Utility Segment, making a compelling case for its recognition as a "Sophisticated Utility Vehicle."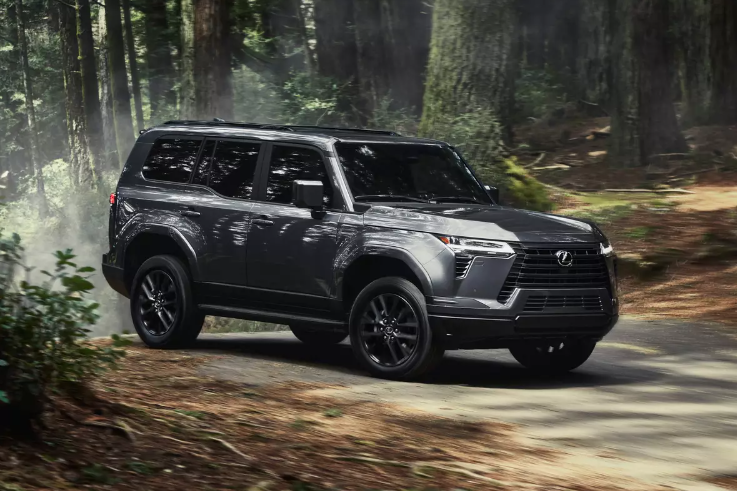 2024 Lexus GX Redesign
Today marks the birth of a new automotive legend as Lexus unveils the highly anticipated and fully reimagined 2024 GX. The original GX made its debut in the North American market back in 2002, instantly establishing itself as a formidable contender in the realm of mid-luxury SUVs. Devoted Lexus enthusiasts have consistently applauded its legendary prowess to conquer challenging terrains, seamlessly transporting customers from mundane errands to remote, untamed landscapes.
As the age-old saying goes, the true essence lies in the journey itself, rather than the destination. The all-new GX has been meticulously crafted to ignite the wanderlust within customers, encouraging them to explore their innate desire for travel, venture onto uncharted paths, reconnect with nature, and revel in the sheer joy of driving. In an unprecedented move, the GX proudly spearheads the implementation of the global Lexus "Overtrail Project," making it the first vehicle to bring this groundbreaking initiative to life. By building upon the solid foundation established by its predecessor, the 2024 GX seamlessly integrates intuitive technology, thoughtful interior enhancements, and unwavering off-road prowess that loyal Lexus customers have come to anticipate.
Unveiling an all-new rendition, the 2024 GX commands attention with its unmistakably aggressive exterior design, embodying the rugged persona it has consistently upheld. The skilled Lexus designers were resolute in capturing the off-road functionality of an authentic body-on-frame SUV. Guided by the vision of GX customers indulging in refined outdoor adventures, their mission was to create a vehicle that masterfully harmonizes a tough exterior with a serene, luxurious, and contemporary interior space. In the lineup of the 2024 GX, customers can choose from an array of six grades: Premium, Premium+, Luxury, Luxury+, and introducing a first for Lexus, the Overtrail, and Overtrail+ editions.
Distinguishing itself from its predecessor, the 2024 GX showcases a square-body profile accentuated by a horizontal design theme. At the front, the all-new GX seamlessly continues the Lexus spindle body concept with a bold and resolute design, enhancing its off-roading capabilities. The intention was to achieve a grounded and stable stance, resulting in a tightly constructed body with a wide track and fender flares that extend from the front pillar base towards the rear.
Compared to the previous-generation GX, the overall width has increased by 3.74 inches (Overtrail by 4.52 inches). Notably, the Premium Triple Beam LED headlamps and grille opening has been raised to mitigate potential road impact, while LED fog and cornering lamps are available to enhance visibility. By reducing the front overhang by 0.78 inches, the GX achieves improved clearance. The commanding front presence is defined by the seamless integration of the grille and headlamp design.
From the side, the 2024 GX emanates a robust and authoritative presence, characterized by its horizontally flowing body and an extended wheelbase of 2.36 inches. Enhancements include a pulled-back A-pillar to enhance visibility, a lower belt line, and improved ground clearance. Overall, the 2024 GX gains an additional 2.75 inches in length. Amplifying its commanding stature, the vehicle boasts 33-inch tires paired with 18-inch wheels on the Overtrail grades, ensuring optimal off-road performance. Rear tread width is expanded by 3.26 inches for the Premium and Luxury grades and 4.06 inches for the Overtrail grades.
At the rear, the square and aggressive stance is maintained, featuring the iconic unified L-shaped light bar. The updated LEXUS logo continues the Next Chapter design language introduced on the 2022 NX. Responding to valuable customer feedback, the all-new GX introduces a standard power rear lift door, a first for the GX, featuring a pop-out window and the convenience of an available kick sensor for hands-free operation.
With a wide range of options, the 2024 GX offers 11 exterior color choices depending on the selected grade. These include Eminent White Pearl, Nebula Gray Pearl, Atomic Silver, the GX-exclusive Incognito, Caviar, Nori Green Pearl, and Nightfall Mica. The Overtrail and Overtrail+ editions present exclusive bi-tone exterior color combinations such as Atomic Silver/Black Roof, Incognito/Black Roof, Nori Green Pearl/Black Roof, and an innovative Earth/Black Roof, marking a first for Lexus.
Interior
Unveiling the all-new GX, Lexus presents customers with the perfect combination of a rugged and capable exterior seamlessly integrated with the luxurious interior elements that transform the vehicle into a haven for road-trip enthusiasts. Regardless of the journey's length, both drivers and passengers will relish the benefits of the modern and sophisticated interior. Boasting a driver-focused cockpit design, reminiscent of the all-new RX, the GX showcases thoughtful features that instill confidence in the driver, allowing them to focus on the road ahead.
A significant improvement over its predecessor is the all-new lower, horizontal instrument panel design, extending seamlessly into the dash, providing a simplified and enhanced experience for both front seat occupants. This design optimization grants excellent front and side visibility while creating a clean and spacious atmosphere. At the center, the standard 14-inch Multimedia Touchscreen Display with Lexus Interface technology takes center stage, complemented by physical dials for frequently used controls such as air conditioning and audio volume. Off-road controls are conveniently concentrated near the gear shifter to minimize potential distractions. The 2024 GX impresses with standard wireless Apple CarPlay® Integration, Android Auto® compatibility, and a digital 12.3 Multi-Information Display (MID).
Catering to the needs of up to 7 passengers, the all-new GX incorporates thoughtful touches throughout. Ergonomic measures have been implemented to reduce fatigue and enhance driving posture through improvements in seat cushioning, seatback bolstering, and headrests. The extension of the front seat hip point to heel height by 1.18 inches further adds to the driving comfort.
The second row offers two configurations: captain's chairs or a 60:40 split-folding bench. For convenient access to the third row or luggage space, a one-motion tumble system has been introduced. The driver and front passenger seats come with standard heated and ventilated features, while heated second-row seats are available. The third row offers both power and manual seat configurations. To enhance safety and convenience, a rear seat reminder has been implemented.
The interior color design of the 2024 GX focuses on earth tones, seamlessly blending with the natural surroundings just outside the vehicle's doors. Customers can choose between a semi-aniline leather and NuLuxe® trimmed interior in Black, Dapple Gray, or Saddle Tan, accompanied by black or dark brown-grained trim. The Overtrail grades offer a GX-first color combination of a Black NuLuxe® trimmed interior with Olive Ultrasuede accents or a Chateau NuLuxe® trimmed interior with Olive Ultrasuede accents and black ornamentation.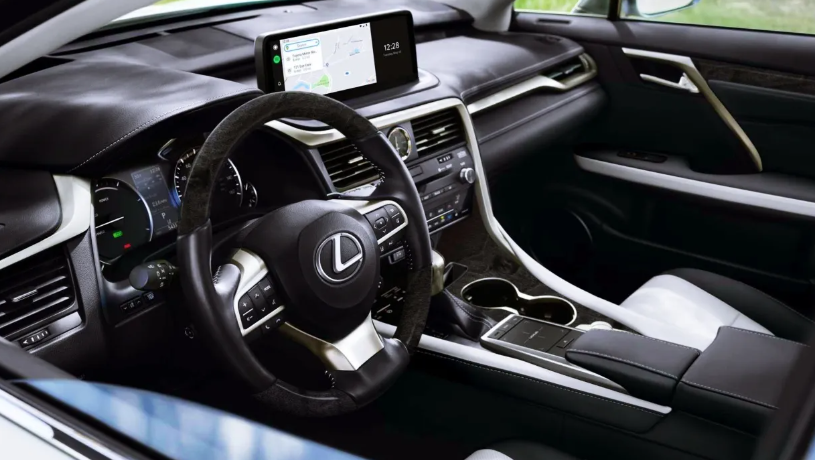 The tech-focused interior of the GX leaves no stone unturned, providing six illuminated charging ports (four in Overtrail) strategically placed throughout the cabin, along with a wireless charger in the front console tray. Ample storage options have been enhanced, with increased space in the center console, door pockets, and up to 12 cupholders. Luggage space in both the second and third-row configurations has been improved, accommodating up to 5 suitcases with the third row folded. Two additional storage spaces have been added under the cargo area for smaller items, while an added 120V AC inverter caters to additional power needs.
The 2024 GX boasts a standard 10-speaker premium surround sound system, with the option to upgrade to the available 21-Speaker Mark Levinson Surround Sound. Additional options, depending on the chosen grade, include the Digital Key, Cool Box, Head-Up Display, Traffic Jam Assist, Cold Area Package, and Tonneau Cover.
Suspension
Inheriting the GA-F platform first introduced in the current-generation LX 600, the 2024 GX benefits from a robust and lightweight ladder frame that significantly enhances body rigidity and refines the on-road handling, embodying the essence of the acclaimed Lexus Driving Signature. Embracing cutting-edge engineering, a newly developed double-wishbone front suspension joins forces with a multi-link rear suspension, seamlessly combining exceptional off-road capabilities with superior on-road performance.
Adding to its repertoire, the GX offers an available Adaptive Variable Suspension (AVS) that dynamically adjusts damping forces in response to ever-changing road conditions. The incorporation of Electronic Power Steering (EPS) further elevates the driving experience, delivering enhanced steering feedback both on and off the road.
Offroad Performance
Unveiling the 2024 GX, it remains true to its heritage as a formidable off-road performer. Continually building on its off-road prowess, the GX incorporates Standard Full-Time 4WD, ensuring unwavering responsiveness across diverse terrains. Equipped with a Torsen® limited-slip center differential featuring a locking capability, the GX delivers consistent traction when needed. The Overtrail grades further enhance capability with the addition of an electronic locking rear differential. During acceleration, while turning, the advanced Torsen® differential expertly distributes driving force, optimizing performance by adjusting the load on the rear left and right wheels.
This meticulous control translates to an impressive level of handling precision. Furthermore, the GX exhibits excellent responsiveness to changes in road conditions during straight-line driving, contributing to overall vehicle stability. Notably, the 2024 GX features enhanced electronic transfer case technology, enabling faster and seamless switching between 4hi and 4lo modes compared to its predecessor.
New Powertrain
To cater to the diverse needs of customers, the all-new GX will be presented with two distinct powertrain options. Upon its launch in the U.S., the GX will boast a standard powertrain configuration consisting of a highly capable and efficient twin-turbocharged 3.4L V6 engine seamlessly mated to a 10-speed Direct Shift Automatic Transmission. This twin-turbo V6 powerplant unleashes an impressive output of 349 horsepower, surpassing the previous generation's V8 engine with its 301 horsepower. Furthermore, the torque output has been substantially improved, reaching an impressive 479 lb.-ft. The twin turbochargers work harmoniously to deliver smooth and consistent acceleration, ensuring precise control over power delivery in any on-road or off-road scenario. Additionally, the towing capacity has received a significant boost, now capable of hauling up to 8,000 lbs. for the Premium, Premium+, and Overtrail grades with the standard tow hitch.
For those seeking a more environmentally conscious and fuel-efficient option, a hybrid powertrain will be made available in the U.S. market at a later date, catering to the evolving needs of customers who prioritize sustainability without compromising performance.
Safety System
Introducing the 2024 Lexus GX, a remarkable addition to the lineup with an array of advanced safety features. Setting a new standard in driver support, the GX now comes standard with the cutting-edge Lexus Safety System+ 3.0. This comprehensive suite of active safety technologies offers the utmost level of protection, encompassing a range of features including the Pre-Collision System (PCS) with Pedestrian Detection, All-speed Dynamic Radar Cruise Control (DRCC), Lane Tracing Assist (LTA), Lane Departure Alert with Steering Assist (LDA w/SA), Road Sign Assist (RSA), and Proactive Driving Assist (PDA).
These state-of-the-art systems work in unison to keep drivers informed and provide assistance when needed. From alerting you to the presence of pedestrians or vehicles in the path of your Lexus to maintaining a consistent speed or safe following distance from the vehicle ahead, these technologies enhance both safety and peace of mind.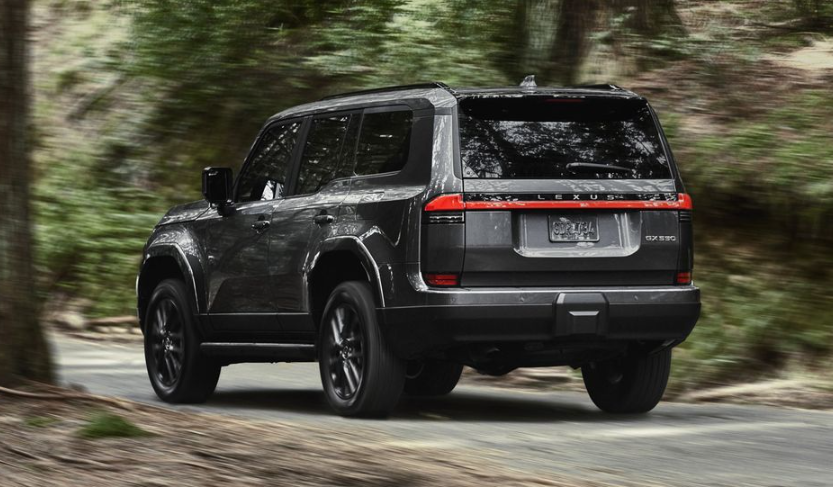 2024 Lexus GX Price & Release Date
There are several options for purchasing a 2023 Lexus GX 460. One option is to visit a Lexus dealership in your area and speak with a salesperson. You can also visit the Lexus website to find a dealership near you and browse their inventory of available GX 460 models. Another option is to shop for a New Lexus GX 460 2024 online through a third-party platform, such as a car buying service or online dealership. You may be able to find a wider selection of Lexus GX 460 2024 models to choose from, as well as potentially better pricing. Keep in mind that purchasing a vehicle online does come with some risk, so it's important to do your research and be cautious when shopping this way.
Finally, you may be able to find a 2023 Lexus GX 460 for sale by a private seller. This can be a good option if you're looking for a specific model or want to negotiate directly with the seller. However, purchasing a used vehicle from a private seller comes with more risk, as you don't have the same protections as you do when purchasing from a dealership. It's important to thoroughly inspect the vehicle and have it checked by a mechanic before making a purchase.
Off-Road Capability
The New 2024 Lexus GX 460 is designed to handle any terrain, making it an excellent choice for off-road adventures. The SUV features Multi-Terrain Select, which allows drivers to choose from five different modes, including mud and sand, rock, and mogul. The system automatically adjusts the throttle and braking to provide optimal traction in any terrain. The 2024 Lexus GX 460 also features Crawl Control, which automatically adjusts the throttle and brakes to maintain a slow and steady pace while off-roading. The system allows drivers to focus on steering, while the vehicle takes care of the rest.
Features
The 2024 Lexus GX 460 is expected to come equipped with a range of features that make it a well-rounded luxury SUV. Some of the notable features that may be available on the 2024 GX 460 include:
Off-road capabilities: The GX 460 comes with a full-time four-wheel drive system and a low-range transfer case, giving it the ability to tackle rough and rugged terrain. It also has a high ground clearance and a multi-terrain select system that allows the driver to choose from various driving modes depending on the surface they are driving on.
Powerful engine: The 2024 GX 460 is powered by a 4.6-liter V8 engine that produces 301 horsepower and 329 pound-feet of torque. This engine is paired with a six-speed automatic transmission and provides smooth and strong acceleration.
Towing capacity: The GX 460 has a towing capacity of up to 6,500 pounds, making it a great vehicle for those who need to tow heavy loads.
Luxurious cabin: The 2024 GX 460 is expected to come with a range of luxury amenities, such as leather upholstery, a power-adjustable driver's seat, and a premium audio system. It is also expected to have a spacious and comfortable cabin that can seat up to seven passengers.
Advanced safety features: The 2024 GX 460 is expected to come with a long list of advanced safety features, including adaptive cruise control, lane keep assist and automatic emergency braking.
Technology features: The 2024 GX 460 is expected to have a range of technology features, such as a touchscreen infotainment system with Apple CarPlay and Android Auto, a premium audio system, and a range of connectivity options.