The 2024 Chevrolet Corvette E-Ray is the first all-wheel-drive and electrified version of this venerable American sports car. The E-Ray is powered by the same 6.2-liter engine found in the Stingray, but with an electric motor that produces 655 horsepower. This is only 15 less than the Z06.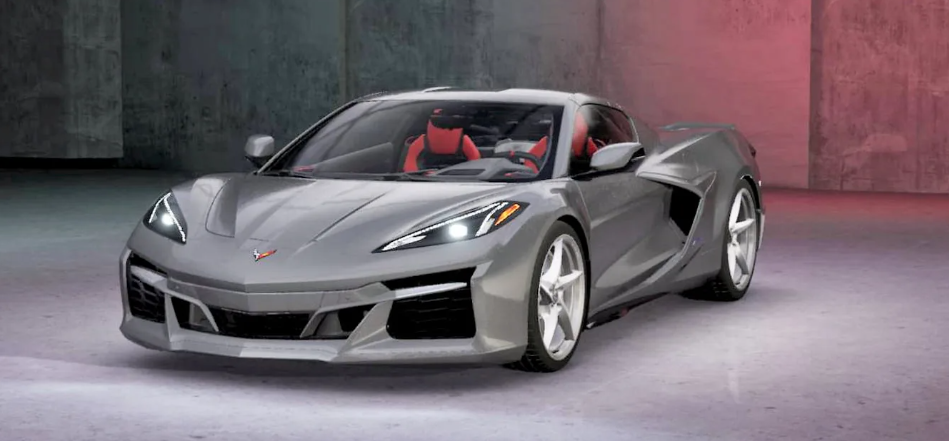 The E-Ray will also be distinguished from its predecessors by an intelligent all-wheel-drive system and EV Mode. Moreover, the E-Ray will benefit from performance upgrades such as Brembo carbon ceramics brakes and magnetorheological dampers. The E-Ray's price will be higher than the C8 Corvette due to its upgraded features. Is it worth the price of admission?
2024 Chevy Corvette E-Ray 3LZ Convertible Release Date & Price
The 2024 Chevrolet Corvette E-Ray is available in coupe and convertible body styles. The 1LZ coupe will be the entry-level model, with an MSRP of $102,900. It comes with performance features such as carbon ceramic brakes and adjustable dampers. The full list of features for the E-Ray has not been released by Chevy as of this writing. However, it is expected to have many, if not all, of the Stingray's standard features. The entry-level Corvette comes with leather upholstery, an eight-inch touchscreen, a Bose audio system with 10 speakers, a performance exhaust, and an electronic rear limited-slip differential.
The Chevy Corvette is the unsung hero in the world of sports cars. It's hard to find a mid-engine supercar that delivers nearly 500 horsepower for an MSRP as low as $65,895. The E-Ray 1LZ is worth $37,005 more than a Stingray base model. The E-Ray has 165 more horsepower and a claimed 0-60-mph time of 2.5 seconds. It is also fuel-efficient and can run on electricity up to 45 miles per hour. Many buyers will find the price increase worth it.
The top-spec Chevy Corvette 3LZ Convertible will be available in 2024 with an MSRP of $120,850. The base model will be equipped with all the features of the E-Ray, plus several add-ons, including a performance data recording system, heated and ventilated seats, wireless charging, and a Bose 14-speaker speaker system. It also includes sporty GT2 Nappa and carbon fiber seats, custom leather interiors with "sueded microfiber trim" and carbon fiber steering wheel trim.
Few would consider the Chevy Corvette's E-Ray price range, which is between $102,000 and $121,000, to be chump change. It is still a bargain compared to the other supercars that are electrified. The Corvette's 670 horsepower and 3-second time from 0-60 mph is comparable to its Corvette. The Taycan Turbo is more than $30,000 expensive in its base version compared to the E-Ray. The 2023 Audi GT e-tron RS, a four-door EV with similar specs to the E-Ray, has 18 less horsepower and costs around $145,000.
The Maserati GranTurismo Folgore, on the other hand, is expected to begin at more than $200,000 and could earn buyers two E-Rays. Buyers who want to get even close to E-Ray performance and price, but remain in the electrified segment, should consider the BMW i4 GT or Kia EV6GT. The E-Ray is far more powerful and has a much better driving experience than either of these electric models. It's safe to say that those who are considering an electric, mid-engine American Supercar probably won't be in the market for either a BMW sedan or a Kia crossover.
Chevy claims that the E-Ray's wide wheels and body design helps channel the vehicle's torque. The front wheels are 20 inches wide and the rear wheels are 21 inches. Chevrolet also offers four-wheel finishes as well as a carbon upgrade.
The 14 colors include new colors like blue, gray, and cactus. You can add a blue stripe to the E-Ray's hood, roof, and rear deck. The stripe will run from the nose of the car down. Black trim and carbon fiber ground effects are also available.
Interior
The E-Ray interior theme will be a green-toned "Artemis Dipped", which will only become available in 2024. Buyers can also customize the interior by choosing from three seat options, seven colors, and two carbon-fiber trim packages.
Engine & Specs
Chevy will equip the E-Ray with a 6.2-liter LT2 engine, similar to that of the Corvette Stingray. The engine is paired with an electric motor to produce a combined 655 horsepower. The V8 gasoline engine powers the rear wheels via an automatic dual-clutch transmission with eight speeds, while the electric motor drives the front wheels. Chevy says the electric motor was mounted on the front axle to save space in the trunk.
Gas engines with cylinder deactivation can be operated as a 4-cylinder in some situations. However, at full throttle, it will help to deliver a 2.5-second zero-to-60-mph acceleration time. The front motor is powered by a new lithium-ion lightweight battery, and Chevrolet's Magnetic Ride Control adaptive suspension is standard.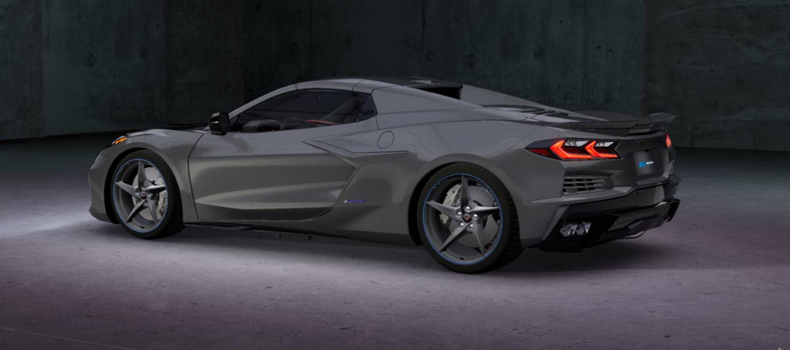 Six driving modes allow the driver to select performance settings specific to different conditions. There are six modes: Tour, Sports Track, Weather My Mode Z-Mode. The car offers two other modes: a charging mode for recovering battery power as you drive, and a stealth mode which allows the E-Ray only to run on its electric motor up to speeds of 45 mph.
Safety
The 2024 Chevy Corvette will be equipped with the same safety features and driver assistance features as other Corvettes. According to the way Chevy equips its current Corvettes a few features are standard but some are reserved for higher trim levels.
Standard features include:
High-definition rear view camera

Rear parking sensors

Warning of forward collision

Automatic emergency brake

Lane departure warning

Lane-keeping Assistance
Chevrolet Teen Driver Technology is also available, which allows parents to monitor the use of their cars by young drivers and helps them stay safe.
Corvette E-Ray safety options include:
Blindspot warning

Rear cross-traffic warning

Front-view camera
Technology
The E-Ray is likely to retain the 8-inch Corvette infotainment display with Apple CarPlay wireless and Android Auto. As long as a paid subscription is active, the system offers SiriusXM satellite service and connected services including a WiFi hotspot.
Chevrolet confirms the E-Ray comes with exclusive infotainment applications to measure and monitor performance. The E-Ray Performance App includes auxiliary gauges as well as a dyno function with detailed power output charts and a system display.

Competitors
The 2024 Chevrolet Corvette E-Ray, priced at just over $100,000 will still be a bargain in the sports car market. While the Porsche 911 Turbo S is faster than the E-Ray from 0-60, it's also more expensive. The E-Ray is still the winner in the market, even though models such as the Acura NSX and McLaren 720S have been discontinued.